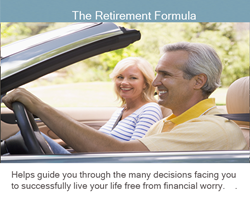 Market volatility makes withdrawal rates a bit trickier today.
MIAMI (PRWEB) June 01, 2016
Ladin Financial Group founder and CEO Michael Ladin issues six tips for pre-retirees and retirees to make their nest egg last throughout their retirement years. In his latest blog titled,"6 Ways to Make Your Retirement Nest Egg Last Longer," Ladin spells out some creative ways to avoid running out of money in the golden years.
When people reach retirement age, their financial priorities turn to ensuring that the nest egg they have spent a lifetime building lasts throughout their lifetime. Individuals who have been saving and contributing to a 401(k) or IRA for the past 30 – 40 years are now tasked with etching out a plan that establishes an income stream to hold them over and handle unexpected expenses.
While the rule of thumb for retirees to avoid stock market volatility, it doesn't mean that retirees shouldn't invest altogether. A well-planned and maintained portfolio that includes conservative market investments is important for income growth during these years.
However, when market volatility or an unexpected expense drains a portion of one's retirement funds, Ladin offers six tips for compensating the loss and stretching a nest egg for 30 years or more.
1. Delay claiming Social Security Benefits. An individual's Social Security benefits are calculated based on their 35 highest earning years. For every year a person delays claiming benefits past age 62, their payouts further increase by approximately 7 - 8 percent per year, through age 70. By maximizing the initial Social Security payment, retirees increase the dollar amount of their annual cost-of-living increases.
2. Begin retirement account withdrawals early. While most people consider deferring retirement account withdrawals to age 70 1/2, it could be beneficial to contemplate spreading the tax consequences out over many years by beginning withdrawals sooner. While traditional retirement accounts such as an IRA don't require withdrawals to begin until after age 70 1/2, taking smaller distributions starting in their 60s can disperse a retiree's tax bill over more years and can help them stay in a lower tax bracket, reducing their lifetime tax bill.
3. Review withdrawal rates. Traditionally, the rule of thumb in retirement was to withdraw 4 percent annually to cover living expenses. However, market volatility makes withdrawal rates a bit trickier today. For example, if a couple retires at age 67 with $1 million, they could plan to withdraw $40,000 from their portfolio annually, which is generally considered sustainable over the long term. But if the market changes significantly, they have to be careful. A $40,000 annual withdrawal may not be sustainable over 20-30 years if one's account balance drops significantly in one year. When market fluctuations affect the overall account balance, the individual would need to consider adjusting to a lower withdrawal rate to compensate.
Purchasing a fixed indexed annuity is one measure pre-retirees can take to help guarantee their income stream for life, as an annuity can offer a consistent distribution rate since it is not subject to market volatility.
4. Postpone cost-of-living raises. Many pre-retirees who depend on their portfolios for retirement income give themselves raises every year to keep up with rising expenses. But whenever possible, Ladin suggests they try to live without the increase for a few years, especially if their portfolio loses a significant amount of money. By avoiding cost-of-living adjustments on withdrawals for a 5-year period, a conservative portfolio is better able to last throughout retirement.
5. Revisit the budget. Pre-retirees with no options for increasing their income may need to consider cutting expenses in order to make their nest egg last longer. Ladin suggests cost-cutting measures such as cutting monthly bills as much as possible by downsizing to a smaller house, for instance, or moving to an area of the country with a lower cost of living if it's possible. He also suggests cutting back from two cars to one, and taking advantage of Groupons, sites like Living Social, and other cost savings opportunities whenever possible.
6. Work part-time. While few retirees relish the idea of working during their golden years, it can help delay tapping a nest egg, or help keep retirement fund withdrawals to a minimum.
People who sign up for Social Security before their full retirement age (65 – 67) can earn up to $15,720 without penalty. Above that amount, $1 of every $2 earned is deducted from their Social Security check. In the year they reach their full retirement age the earnings limit increases to $41,880. After their birthday passes that year, they can earn any amount without penalty.
"Plus, your benefits aren't withheld forever," Ladin says. "If your Social Security checks are reduced by earnings, they will be recalculated to a higher amount when you reach your full retirement age, so it might not be too unpleasant to find a part-time job or consulting work that you enjoy, if it means stretching your nest egg to last as long as you do."
To learn more about making your nest egg last longer, visit the Ladin Financial Group website, email Michael(at)ladinfinancialgroup(dot)com or info(at)ladintax(dot)com, or call (305) 444- 4898.
About Ladin Tax and Financial Group:
Ladin Financial Group, a Registered Investment Advisory firm, focuses on assisting Florida business owners, Baby Boomers and retirees with sound retirement income strategies that work in a tax efficient way. Founder and CEO Michael Ladin is experienced in asset protection, wealth transfers, estate planning life insurance and premium financing, and is registered in Florida as an Investment Advisor Representative.
The host of Retirement Radio's "Strategies for Financial Success" on NewsTalk 610 WIOD, Saturdays at 7 a.m., Sundays at 1 p.m. Ladin co-authored the best-selling book, "The Ultimate Success Guide," with Brian Tracy. He has been quoted in major publications, such as the Wall Street Journal and USA Today.
Since beginning his career in the financial services and insurance business more than 20 years ago, Ladin has built a reputation as a respected public speaker and consultant.
###