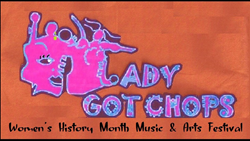 "The Festival pays homage to the great female musicians of the past as well as honors great men and women of jazz who influenced them." - Kim Clarke festival founder.
NEW YORK (PRWEB) January 09, 2020
LADY GOT CHOPS Women's History Month Music and Arts Festival Inc with the owners of the Jazz (aka Jazz Spot Café), Lillithe Myers and her daughter Tiecha Merrit, Kim created and produced the "LADY GOT CHOPS Women's Month Jazz Festival." After the closure of the café in 2009, Kim continued the project with the support of women artists and caring club owners .The grassroots festival is celebrating its 18th year (2020) honoring Women's History Month through the musical contributions of over 200 women who a majority are award-winning, and Billboard chart-topping musicians.
THE LADY GOT CHOPS WOMEN'S HISTORY MONTH MUSIC AND ARTS FESTIVAL
Represents a gathering of like-minded individuals who:
1 Want to celebrate women's excellence of contribution to humanity during March Women's History Month by either performing, promoting or attending events or showings.
2 Provide a host space which will house the artist for the date or dates of performance or showing.
3 Find benefit in freely provided promotion which will bring attention to their art or venue as well as a feeling of fellowship through participation.
4 Networks with the public as well as other musicians' arts and venues.
5 Value the education provided by the elders and experienced in the arts.
6 Have a progressive outlook while maintaining a realistic view of the climate of the arts and life.
Mission:
To globally elevate Women's History Month through the promotion of women's outstanding contributions (aka Chops), artistic and otherwise, during the month of March.
Sponsored by:
The Jazz Foundation of America
The Black Rock Coalition
Please contact for interviews and or interest in further sponsorship opportunities.
About Kim Clarke
The founder of the festival Kim Clarke has been a member of Mickey Davidson's Dance Rhythm Dance Troupe and Napoleon Revels-Bey Educational Ensembles which bring history of Dance and Jazz to numerous schools in the NY area. She has also collaborated on developing a study program, with pianist Bertha Hope and company through the Jazz Foundation of America geared to mentorship of Bronx high school girls through Jazz Studies at Women's Academy of Excellence and other schools. Prior workshop/teaching experience includes private students most notably Reggie Hamilton, and at venues such as: Boys Harbor NY, Guitar Institute of Technology, London, Feierwerk Jazz age and Blues Workshop, Munich Germany, Portland State University, Oregon, Reed College, Columbia Basin College and Whitman Colleges Washington State. Kim has toured with Joseph Bowie and Defunkt since 1981 , performed with Jazz notables such as Joe Henderson Art Blakey and currently bassist with Bertha Hope Quintet. http://kimclarke.mysite.com/bio1.html
Kim Clarke is also a member of Local 802, International Women in Jazz, Chamber Music of America, Bennett College Alumnae
--
ABOUT LADY GOT CHOPS
Lady Got Chops Women's History Month Music and Arts Festival Inc is a 501C3 charitable organization dedicated to the celebration of Women's history month ( March) which promotes the contributions of women in the performing arts.
#ladygotchops
#ladygotchopswomenhistorymonth
#ladygotchops2020
https://www.instagram.com/ladygotchops2020/
https://www.facebook.com/ladygotchopsfestival/