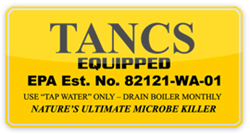 The yellow label tells you in a glance that your Ladybug qualifies as a disinfection device for the EPA.
Vernon Hills, Illinois (PRWEB) August 29, 2013
LadybugSteamCleaners.com, a leading global marketer of vapor steam cleaners, announced today that it intends to actively market the Ladybug Tekno 2350 steam cleaner to preschool/day care centers that are looking to switch from toxic chemical cleaners to natural cleaning products.
"The harsh smell of chemical cleaners strikes like a breaking wave when you walk into a recently-cleaned day care center," says V.K. Dunlop of LadybugSteamCleaners.com. "Even if you don't have allergies, the harsh odor can hurt your eyes, dry out your nose and damage your lungs. The smell can linger for hours, even days when windows are closed. For children who are sensitive, the smell can affect thinking and behavior—even cause cancer."
Using ordinary tap water, the Ladybug Tekno 2350 with Ladybug's proprietary patented Thermo Accelerated Nano Crystal Sanitation technology—called TANCS®—is scientifically proven to produce better results than traditional disinfectants, qualifying the Tekno as a disinfection device for the U.S. Environmental Protection Agency (EPA Est. No. 82121-WA-01) and making it more suitable than traditional hard-surface disinfectants for preschools and daycare centers.
"Many traditional disinfectants used in schools are highly toxic and contain potentially cancer-causing chemicals," says Dunlop. "Children—particularly preschool through kindergarten age—are at greater risk because they play on floors, sprawl on flat surfaces, and put everything into their mouth."
The simplified water-only protocol of the Tekno 2350, which proudly displays a yellow sticker on one side that says TANCS® in bold letters, cleans, disinfects and deodorizes almost any surface—without chemicals. It is especially useful in maintaining bathrooms, which some parents tell their children to avoid because they consider them a health threat.
"Don't be fooled by imitations," says Dunlop. "Ladybug is changing the way people clean with its revolutionary TANCS® technology. The yellow label tells you in a glance that your Ladybug qualifies as a disinfection device for the EPA."
Located in Vernon Hills, Illinois, LadybugSteamCleaners.com is moving fast to educate consumers and businesses that finally, there's a feasible, environmentally friendly alternative to chemicals. For more information, call 1-877-840-2977. LadybugSteamCleaners.com is a proud member of the Safer Chemicals, Healthy Families coalition, a nationwide effort to protect families from toxic chemicals. To stay safe and avoid toxic chemicals, keep abreast of the latest news with LadybugSteamCleaners.com's Twitter account, @LadybugSteam.