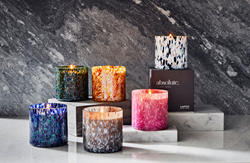 My goal with Absolute is to highlight an even higher level of artistry through candle making.
NEW YORK (PRWEB) November 15, 2021
LAFCO New York announces the debut of the Absolute Collection, a limited-edition range of scented candles that are a testament to centuries-old techniques and master craftsmanship. This new range of products marks an evolution for LAFCO, known for creating luxurious fragrances inspired by rooms in the home or specific destinations.
The new collection features six fragrances, each named for its most precious ingredient – the rare and highly concentrated fragrance oil known as an "absolute." Each offers a complex and evocative aromatic experience. Extracted through a modified version of the traditional "cold enfleurage" process, the result is highly concentrated absolutes that have preserved the complex olfactory notes of the original botanicals.
Each vessel that houses the candles is also handcrafted using time-honored techniques. Inspired by the Italian expression "macchia," meaning spots of color, each original pattern is created by layering pigments and shards of glass with a range of tones and transparencies. The finished blown glass vessel produces a radiant shimmer of hues, which reflect and refract the light of the candle flame. Each one is a work of art unto itself.
"My goal with Absolute is to highlight an even higher level of artistry through candle making," said LAFCO founder and president Jon Bresler. "We've always taken great pride in the artisanal origins of our products, but this collection makes that craftsmanship the focal point. Each fragrance utilizes an absolute oil that is cultivated using time-honored techniques," he explained of the 18th-century process which captures the purest essence of the plant. "This artisanal process is then represented by the intricate color designs of the beautiful blown-glass vessels. I'm immensely proud of our work with Absolute and the rich history it represents," he added.
Each of the new scents pays homage to the natural ingredients from which it was developed with true-to-nature fragrances that capture and preserve the depth, subtlety, and delicacy of every note.
Balsam Black Pepper is sparkling and refreshing as the fir balsam absolute fragrance intertwines with the warmth of amber and cedarwood, evoking a pure forest of evergreens.
Clary Sage blends herbaceous sage with chamomile and red currant, while notes of cedarwood, orris and a touch of oud add a warm intensity to this enlivened fragrance.
Forest Oakmoss offers a mossy intensity at its core, which is then sweetened with a drizzle of cognac while violet leaf blossoms, warm amber, and incense combine to create a verdant scent experience.
Lavender Flower balances the potent herbal lavender with the freshness of mint leaves and bright citrus, while an infusion of aromatic rosemary and violet petals is further enhanced by a sweet touch of vanilla.
Orange Blossom unfolds with sparkling tangerine and tangy cassis with the rich and seductive aroma of orange blossoms, revealing an intense sweetness and delightful freshness wrapped with warm musk.
Rose de Mai presents a voluptuous bouquet of roses intertwined with delicate hints of honey nectar and spicy geranium further infused with blooming Turkish rose, violet, and warm woods for a rich, sophisticated scent.
The Absolute Collection naturally adheres to LAFCO's Pure Promise, with each product crafted using natural essential oils that provide highly concentrated scents. Further, the candles are crafted in solid soy wax with 100-percent cotton wicks that provide a clean, non-toxic burn for a purely enjoyable experience.
The Absolute Collection is offered in a 15.5 oz. scented candle size for $95 (SRP) and is available now at LAFCO.com and fine retailers nationwide.
About LAFCO New York
Founded in 1992 in New York City, LAFCO combines traditional craftsmanship and the purest ingredients to create transporting home fragrances and personal care products. LAFCO's luxurious collection of soaps, lotion, diffusers, and scented candles are made from rigorously sourced essential oils. The products are hand-produced using time-honored botanical production practices and cutting-edge technology. The fragrances are designed to evoke an emotional, sensory response: soothing, invigorating, meditative, and inspiring.