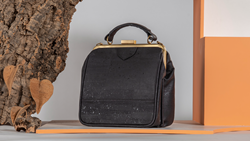 "Bebe means baby in French, and bebebark is a smaller, minimalist version of bobobark. For this bag, I wanted clean lines and perfect proportions to achieve the ultimate elegance." - Natacha Seroussi, Designer and Founder
PARIS (PRWEB) September 25, 2020
LaFlore, the father-daughter team behind bobobark has launched a new Kickstarter campaign today on the heels of their wildly successful 2019 campaign. The new product, BEBEBARK, boasts the same premium, earth-friendly materials as their flagship bobobark handbag in a more compact size making it the perfect option for any occasion. With a LaFlore Paris bag, there's no reason to choose between fashion, function, and sustainability — bebebark has it all.
Every bebebark is handmade from 100% sustainable, vegan, and cruelty-free cork that is three-times lighter than traditional leather and water resistant. Featuring three stylish configurations — a mini-backpack, crossbody or shoulder bag, and a clutch — bebebark offers versatility and function without sacrificing ethics or aesthetics.
"Bebe means baby in French, and bebebark is a smaller, minimalist version of bobobark. For this bag, I wanted clean lines and perfect proportions to achieve the ultimate elegance."
-- Natacha Seroussi, Designer and Founder
Designed to be the ideal accessory for any occasion, the newest offering from LaFlore Paris provides their signature bobobark interior organization system optimized for its smaller size with a designated place for all the necessities. The bebebark offers 11 pockets and compartments that will keep items organized and easily accessible. The brass clasp opens 180 degrees for a wide and clear view into the bag, and the signature orange lining helps to locate the essentials at a glance. Keep your phone accessible and stay connected even on-the-go with bebebark's convenient hidden-access side zipper and built-in charging cable port.
LaFlore's first crowdfunding campaign for bobobark launched on Kickstarter in 2019, raising $1.39M from more than 6,400 backers and an additional $800k on Indiegogo from 3,500 backers in 2020. It was the most funded women's bag in Kickstarter history. Launching products on Kickstarter is one way that LaFlore works towards their zero-waste vision and commitment to sustainability. Gauging inventory needs through the Kickstarter campaign ensures that products aren't overproduced and helps to protect precious resources.
Pre-orders of bebebark will be available for a limited time via Kickstarter and includes discounts for early backers. Super Early Bird rewards start at $169, a $90 discount off the retail price of $260. For more information and to order at early-bird discounts during their campaign, visit the bebebark campaign page.
For media inquiries, please contact Elie Seroussi at elie@bobobark.com
About LaFlore Paris
LaFlore Paris is a boutique brand headquartered in Paris in the heart of Le Marais and is the creation of Elie Seroussi, a 30-year fashion industry veteran and founder of Cecile and Jeanne Paris, and his daughter, designer Natacha Seroussi. Their mission is to show that chic, elegant, and modern accessories can also be environmentally friendly, vegan, and sustainable.
For more information, please visit us at https://lafloreparis.com/