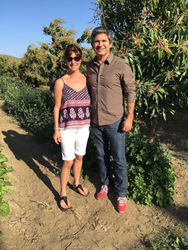 San Diego, CA (PRWEB) March 09, 2016
Chef Jodi of Lajollacooks4u, owner of the unique cooking and dining experience, has returned with new recipes and knowledge on organic farming and farm-to-table cooking following a culinary adventure to San Jose del Cabo and its progressive food scene centered around Los Tamarindos.
Enrique Silva, chef and owner and agricultural engineer of Los Tamarindos, guided Chef Jodi through an incredible tour of his organic farm, Huerta Los Tamarindos, showcasing the careful germination and cultivation process that sustains the city's local restaurants. Chef Jodi was impressed with the nature of Silva's enterprise, as Lajollacooks4u prides itself in its own specialization of farm-to-table cooking.
Following the tour, Chef Jodi met up with Chef Gabriel Castillo, who taught the cooking class hosted in the kitchen of organic restaurant, Los Tamarindos, located on the property of Huerta Los Tamarindos. Chef Gabriel introduced Chef Jodi to several new recipes, salsas, ceviche, homemade corn tortillas, and locally sourced fish entrees served with farm-fresh vegetables. Chef Jodi is eager to integrate these new authentic Mexican recipes into Lajollacooks4u's renowned California Cuisine.
Chef Jodi was thrilled about her experience and said, "The organic farm scene in this area of Mexico was so inspiring. Lajollacooks4u introduces our guests to the concept of locally sourcing produce and meat by visiting San Diego's local farmer's markets and specialty shops. It is great to this progressive movement taking force with the efforts of Los Tamarindos in Los Cabos. We are eager to further incorporate the strategies we learned into Lajollacooks4u."
Lajollacooks4u uses only the freshest ingredients available and actively seeks to incorporate farm-to-table cooking practices in all cooking classes. Chef Jodi is looking forward to sharing this new knowledge and recipes gained from her most recent travels.
About Los Tamarindos
Huerta Los Tamarindos is an organic farm and restaurant located in San Jose Del Cabo. Huerta Los Tamarindos offers farm tours, cooking classes, and also provides an outdoor event center for parties and gatherings.
Huerta Los Tamarindos was rededicated to the cultivation of organic produce in 2003, and has since become a very active producer of organic produce in Los Cabos, providing fresh herbs and vegetables for local restaurants (Tequila, Casa Natalia's Mi Cocina, and others) as well as exporting herbs and vegetables to the United States. Los Tamarindos has gone through the rigorous process of obtaining organic certification from Primus Labs and The United States Department of Agriculture. For more information, please visit: http://huertalostamarindos.com/index.html.
About Lajollacooks4u
Lajollacooks4u, founded in 2008, provides a unique and intimate activity for couples, corporate team-building, and any foodie looking for a unique cooking and culinary experience in an ideal setting overlooking the Pacific Ocean. Based in La Jolla, a suburb of San Diego, Calif., Lajollacooks4u has enjoyed record growth since its inception and is ranked as a top attraction in La Jolla on the world's largest travel review site, TripAdvisor. For more information, contact Jodi Abel at jodi(at)lajollacooks4u.com or phone 1-858-752-4980.
Lajollacooks4u customizes all events to meet the desires and needs of the organization. For reservations, contact Chef Jodi Abel, or visit Lajollacooks4u's website at http://www.lajollacooks4u.com.