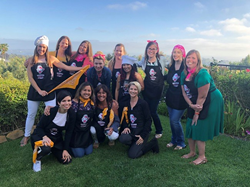 SAN DIEGO (PRWEB) May 21, 2019
Experiential tourism, a trend encompassing culinary travel, cultural exploration and activity-based travel experiences, has seen a rise in demand over the last several years. And according to a recent report by Skift, a media company for the travel industry, it won't be slowing down anytime soon. In fact, more and more travelers are wanting their journeys to be authentic and unique, and good cuisine has shown to play a large role in their ultimate travel destination.
This is because travelers want to connect with their food, and experiencing the local fare provides them with great insight into the local culture, giving them a truly authentic experience. Experiential tourism also gives travelers the opportunity to learn about new culinary skills and local food trends, while also getting the chance to explore the area where they're visiting.
Lajollacooks4u is a pioneer of experiential tourism, having offered its signature cooking programs to travelers from around the globe for the last 11 years. With its team-building events, corporate cooking challenges, gourmet cooking classes and Farmer's Market tours, guests are immersed in a one-of-a-kind experience with delicious farm-to-table cuisine, picturesque views and meaningful interaction as they come together to prepare a multi-course meal. Time and time again, Lajollacooks4u is consistently rated five stars -- further exemplifying that it provides a culinary experience that will stay with travelers long after they've put away their suitcase.
For more information on the company's signature culinary programs, please visit http://www.lajollacooks4u.com.
About Lajollacooks4u:
Lajollacooks4u is San Diego's premiere team-building and cooking events company. Since 2008, it has hosted companies from all over the globe, providing guests with a collaborative and one-of-a-kind culinary experience. With skilled facilitators, farm-to-table cuisine and a stunning view overlooking La Jolla, Lajollacooks4u has consistently been ranked one of the area's top attractions by Trip Advisor, having been awarded its Certificate of Excellence four years in a row. For more information about the company's hands-on team building events and gourmet cooking classes, visit http://www.lajollacooks4u.com or contact jodi(at)lajollacooks4u.com.