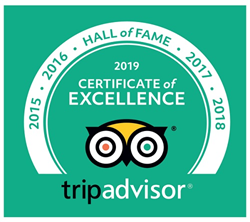 SAN DIEGO (PRWEB) June 04, 2019
Lajollacooks4u is delighted to announce it has been named as one of TripAdvisor's 2019 Hall of Fame recipients. The recognition, which honors hospitality excellence, is given only to businesses that have achieved consistently outstanding traveler reviews on TripAdvisor, as well as received a Certificate of Excellence for five consecutive years.
To qualify for the Certificate of Excellence –- an award that only 10 percent of businesses listed on the popular travel site receive -- businesses must maintain an overall rating of four or higher, out of a possible five, as reviewed by travelers on TripAdvisor. The quality, quantity and recency of these reviews are also taken into consideration.
Lajollacooks4u's signature gourmet cooking classes and collaborative team-building events and cooking challenges have helped propel the company towards its rapidly growing success. With over 280 "Five Star" reviews from visiting guests, this award is a reflection of the high-quality service and one-of-a-kind culinary experience Lajollacooks4u provides.
"TripAdvisor is excited to announce the recipients of the 2019 'Certificate of Excellence', which for nearly a decade has celebrated businesses that have consistently received positive ratings from travelers and diners on the world's largest travel platform," said Neela Pal, Vice President of TripAdvisor. "This recognition allows us to publicly recognize businesses that are actively taking into account customer feedback to help travelers confidently experience the most highly reviewed places to eat, stay and explore."
About Lajollacooks4u:
Lajollacooks4u is San Diego's premiere team-building and cooking events company. Since 2008, it has hosted companies from all over the globe, providing guests with a collaborative and one-of-a-kind culinary experience. With skilled facilitators, farm-to-table cuisine and a stunning view overlooking La Jolla, Lajollacooks4u has consistently been ranked one of the area's top attractions by TripAdvisor, having been awarded its Hall of Fame recognition for receiving a Certificate of Excellence for five years in a row. For more information about the company's hands-on team building events and gourmet cooking classes, visit http://www.lajollacooks4u.com or contact jodi@lajollacooks4u.com.