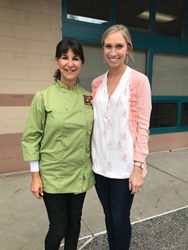 SAN DIEGO, Calif. (PRWEB) July 17, 2018
Giving back to the community has always been a significant part of Lajollacooks4u's business model. Since 2008, the San Diego-based team building and cooking events company has devoted much of its time and efforts to volunteering around the area.
One of its main philanthropic focuses is hunger-relief programs. Through the San Diego Food Bank, the company is heavily involved in the Food 4 Kids Backpack program, an initiative that provides weekend backpacks of food to school children living in poverty. Lajollacooks4u Chef and Founder Jodi Abel is also involved in the Food Bank's many other programs. Earlier this year, she collaborated with the organization as part of a five-week cooking series with a local elementary school, in which she guided a group of 4th and 5th graders through a variety of lessons, such as food preparation and nutritious meal selection. Currently, Abel is working with Maria Tavera, the Food Bank's Nutrition and Wellness Coordinator, to teach more cooking classes in the fall.
"I've always been passionate about feeding people, so when it came to my attention so many in our community struggle with hunger, it really hit home for me," Abel said. "I'm am so grateful to have had this opportunity to help more in need and increase awareness of this worthy cause."
Lajollacooks4u also donates its time to support other non-profits and educational projects; its hillside venue in La Jolla providing an ideal location for fundraising events. Among those its hosted include the Jewish National Fund and Volunteers of America, as well as many others.
"Giving back is equally as important to our culture," Abel said. "There is nothing more gratifying than to see the impactful difference our company makes when dedicating our efforts to better the community."
In addition, Abel is an active member of Les Dames d'Escoffier International, a philanthropic organization of women leaders in the fields of food, fine beverage and hospitality, as well as a strong supporter of local area farms and gardens – especially those that promote sustainable agriculture and healthy living.
About Lajollacooks4u:
Lajollacooks4u is San Diego's premiere team-building and cooking events company. Since 2008, it has hosted companies from all over the globe, providing guests with a collaborative and one-of-a-kind culinary experience. With skilled facilitators, farm-to-table cuisine and a stunning view overlooking La Jolla, Lajollacooks4u has consistently been ranked one of the area's top attractions by Trip Advisor, having been awarded its Certificate of Excellence four years in a row. For more information about the company's hands-on team building events and gourmet cooking classes, visit http://www.lajollacooks4u.com or contact jodi(at)lajollacooks4u(dot)com.