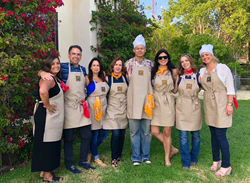 SAN DIEGO (PRWEB) August 22, 2018
Lajollacooks4u is proud to have hosted a variety of groups this year – both new guests and those returning for a second or third time. Companies, such as Illumina, Qualcomm, Hewlett Packard, Sequenom and more, have all visited the La Jolla-based venue time and time again as a spot to bond with their teams.
Part of the reason clientele return is due to Lajollacooks4u's signature team-building format, a way for teams to not only interact with one another in a cooking environment, but engage in some friendly hands-on competition, as well.
Each challenge begins as participants are split into groups using various ice breakers and interactive games. From there, group members are then divided into teams and guided by Chef Jodi Abel's staff as they compete against each other in creating several different menu items. Participants are judged by taste, presentation and teamwork, and ultimately compete to be the team with the most points. There is even a marketing "infomercial" component, which entails each team collaborating on how to best "sell" their menu item to the judges. Once all teams have completed their recipes, participants reconvene to enjoy the gourmet meals they co-produced, all while recognizing that their success was based on teamwork.
But companies aren't the only guests who've returned to experience Lajollacooks4u's intimate and unique cooking events. One such guest returned for the fourth time this summer, this time bringing her friends and family members to share in Lajollacooks4u's signature gourmet cooking classes. "As always, it was a wonderful experience," she told Founder and Chef Jodi Abel. "I cannot wait to come again!"
Lajollacooks4u offers several different event formats depending upon the size of the group and budget. Its signature programs, such as Tapas Cook-off, Foodie Truck Challenge and Iron Chef Cooking Competition, can be held at its venue atop Mt. Soledad or at a local venue of the group's choosing. For more information on Lajollacooks4u's corporate team-building event packages and gourmet cooking classes, please visit http://www.lajollacooks4u.com.
About Lajollacooks4u:
Lajollacooks4u is San Diego's premiere team-building and cooking events company. Since 2008, it has hosted companies from all over the globe, providing guests with a collaborative and one-of-a-kind culinary experience. With skilled facilitators, farm-to-table cuisine and a stunning view overlooking La Jolla, Lajollacooks4u has consistently been ranked one of the area's top attractions by Trip Advisor, having been awarded its Certificate of Excellence four years in a row. For more information about the company's hands-on team building events and gourmet cooking classes, visit http://www.lajollacooks4u.com or contact jodi(at)lajollacooks4u(dot)com.