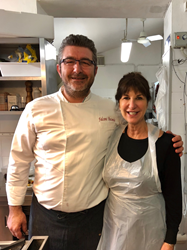 SAN DIEGO, CALIF. (PRWEB) November 28, 2018
Earlier this month, Lajollacooks4u's Founder and Chef Jodi Abel traveled to Italy to learn more about Italian cuisine, as well as experience the height of truffle season.
Her first stop was Umbria, a region in Central Italy known for its delicious food and pristine countryside. Staying in the exclusive Black Truffle Lodge in the small mountain village of Pettino, Chef Jodi was introduced to her hosts during her stay, Francesca and Fabiola. Together, they went truffle hunting and later cooked a variety of meals incorporating the black truffles from their harvest.
Next on her agenda was the Le Silve Lodge, which is beautifully situated in the hills above Assisi, also located in the Umbria region. During her stay, Chef Jodi had the privilege of cooking with the owner of Ristorante Armentum, Chef Antonio Falcone. Together they prepared a variety of items, including vegetable risotto with ricotta, and a baked egg with bacon, black truffles and eggplant cream, as well as zucchini caponata.
Chef Jodi's Italian cooking adventure ended with a visit to the infamous NOPI restaurant in London, owned by Yotam Ottolenghi, which was every bit as delicious as the food in his cookbooks.
"It was an unforgettable immersion experience in Italy, getting to experience the true flavors of Umbria," she said. "I cannot wait to incorporate my many new truffle products into new recipes for our Lajollacooks4u guests!"