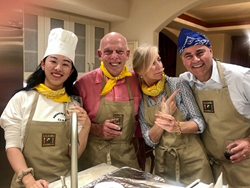 SAN DIEGO, Calif. (PRWEB) November 21, 2019
Lajollacooks4u is preparing for another busy holiday season. Not only has the San Diego-based team building and cooking events company already scheduled several of its popular cooking classes and team-building events, but the company has also booked numerous companies for its signature Holiday Parties.
The company's Holiday Parties have been a favorite for companies of all sizes since 2008. Each event is completely customized – down to the menu, location and budget – and offers team members an opportunity to collaborate, compete, and ultimately, come together while preparing and enjoying a delicious meal. Holiday Parties are also a great way to celebrate the year's end, as well as show appreciation for all the positive contributions team members have made to their organizations.
"Everyone wants to feel appreciated, and planning a holiday party is a great way to celebrate the successes of individual employees, teams and the company," said Lajollacooks4u Founder and Chef Jodi Abel. "It's also a wonderful way to start out the new year on a positive note."
Lajollacooks4u also recently partnered with Kapow, the world's leading corporate events platform that connects companies with venues to book unique client events online in real-time. Its curated marketplace offers a more efficient way for companies to book events designed to engage and retain team members and clients. Through this partnership, Lajollacooks4u hopes to grow its brand and increase its national presence this holiday season and beyond.
For unique holiday party cooking programs combining camaraderie, fun and a stunning venue overlooking La Jolla, visit http://www.lajollacooks4u.com for more information.
About Lajollacooks4u:
Lajollacooks4u is San Diego's premiere team-building and cooking events company. Since 2008, it has hosted companies from all over the globe, providing guests with a collaborative and one-of-a-kind culinary experience. With skilled facilitators, farm-to-table cuisine and a stunning view overlooking La Jolla, Lajollacooks4u has consistently been ranked one of the area's top attractions by TripAdvisor, having been awarded its Hall of Fame recognition for receiving a Certificate of Excellence five years in a row. For more information about the company's hands-on team building events and gourmet cooking classes, visit http://www.lajollacooks4u.com or contact jodi@lajollacooks4u.com.