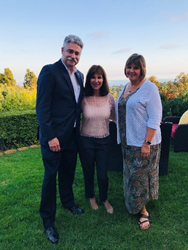 SAN DIEGO (PRWEB) June 27, 2019
Lajollacooks4u was delighted to have hosted the San Diego Food Bank last week, as approximately 25 Food Bank supporters gathered at the team-building and cooking event company's Italian-style venue for an evening of great food and great company. Guests sipped on mocktails as they mingled and enjoyed the views overlooking La Jolla, and later feasted on California cuisine dishes, such as ahi poke in wonton cups, lamb sliders with tzatziki and pita and edamame salad with blackened shrimp.
While chocolate mousse and berry crumb bars were served for dessert, Lajollacooks4u's Founder and Chef Jodi Abel welcomed the group and spoke about her involvement with the San Diego Food Bank. She then introduced Food Bank President and CEO Jim Floros, who shared more about the nonprofit's mission, achievements and upcoming goals.
"We were absolutely thrilled with the event," said Liz Sheahan, the Food Bank's Vice President of Development. "The Lajollacooks4u team was amazing. [The venue] was a great setting for us to really get to know our donors on a level we hadn't previously."
Added Chef Jodi, "I've always been passionate about feeding the hungry, and over the past several years I've become more and more involved with the San Diego Food Bank and its many initiatives. Tonight was a lovely way to continue our support for this fabulous organization, as well as give back to our community."
About the Jacobs & Cushman San Diego Food Bank and North County Food Bank:
Established in 1977, the Jacobs & Cushman San Diego Food Bank and its North County Food Bank chapter comprise the leading hunger-relief organization in San Diego County, providing food to people in need, advocating for the hungry and educating the public about hunger-related issues. Through a combination of programs and partnerships with more than 500 San Diego County nonprofit charities, the Food Bank acts as a central repository and distribution point for donated food. Last year, the Food Bank distributed 28 million pounds of food to working-poor families, low-income military families, fixed-income seniors and children living in poverty through a network of nonprofit organizations that work to alleviate hunger.
Visit the Jacobs & Cushman San Diego Food Bank at: SanDiegoFoodBank.org. Visit the North County Food Bank at: NorthCountyFoodBank.org.
About Lajollacooks4u:
Lajollacooks4u is San Diego's premiere team-building and cooking events company. Founded in 2008, it has hosted companies from all over the globe, providing guests with a collaborative and one-of-a-kind culinary experience. With skilled facilitators, farm-to-table cuisine and a stunning view overlooking La Jolla, Lajollacooks4u has consistently been ranked one of the area's top attractions by TripAdvisor, having been awarded its Hall of Fame recognition for receiving a Certificate of Excellence five years in a row.
For more information on the company's hands-on team building events and gourmet cooking classes, please visit http://www.lajollacooks4u.com.