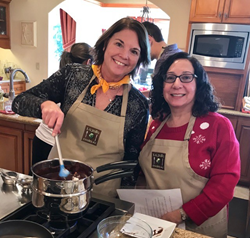 SAN DIEGO (PRWEB) October 23, 2018
Lajollacooks4u announced today the launch of its newly revamped website – http://www.lajollacooks4u.com. With a new modern look, the redesigned site offers improved navigation, while also showcasing the company's recent re-branding as a cooking events company, in which it offers everything from team-building events and corporate cooking challenges, to gourmet cooking classes and weekend culinary adventures.
The features of the new website include:

Heightened ability to book group events, as well as receive cost estimates
Improved online ordering platform for Lajollacooks4u's best-selling cookbook, California Cuisine
Enhanced blog platform that showcases content, including information about the groups the company has hosted, seasonal recipes and kitchen tips
Beautiful new photography that emphasizes the company's ten-year history
Mobile optimization that is user-friendly across all types of devices
"It has never been a more exciting time than now at Lajollacooks4u, and we hope this new website will inspire our guests to fully embrace California cuisine, as well as entice them to experience the many benefits our team-building and corporate cooking challenges have to offer," said founder, Chef Jodi Abel. "We look forward to an exciting road ahead as we take our business to the next level and increase our digital footprint."
To visit the company's new website, please visit http://www.lajollacooks4u.com.
About Lajollacooks4u:
Lajollacooks4u is San Diego's premiere team-building and cooking events company. Since 2008, it has hosted companies from all over the globe, providing guests with a collaborative and one-of-a-kind culinary experience. With skilled facilitators, farm-to-table cuisine and a stunning view overlooking La Jolla, Lajollacooks4u has consistently been ranked one of the area's top attractions by Trip Advisor, having been awarded its Certificate of Excellence four years in a row. For more information about the company's hands-on team building events and gourmet cooking classes, visit http://www.lajollacooks4u.com or contact jodi(at)lajollacooks4u.com.