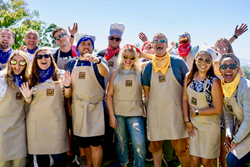 SAN DIEGO (PRWEB) December 30, 2019
It's been quite a year for Lajollacooks4u. In fact, the San Diego-based team-building and cooking events company has seen its highest sales in 2019, having hosted a multitude of team-building events and cooking challenges this year. Teams, such as Amazon, Google, Vistage and Illumina, have all visited the company's La Jolla-based venue, and the company has worked hard to accommodate the growing demand for its services. As a result, it has expanded its team with some of the city's best talent.
Adam Portnoy serves as the company's master of ceremonies. He is responsible for keeping all aspects of the events running smoothly, as well as entertaining the crowd through a variety of games, trivia questions and icebreakers. With his vivacious personality and attention to detail, Adam has been able to captivate guests for the last seven years.
Mariela Olvera serves as Lajollacooks4u's primary sous chef and kitchen manager. Having been with the company since its inception in 2008, Mariela manages the kitchen staff, helps prepare a variety of recipes and ensures every facilitator is prepped and prepared prior to and during all events.
Lajollacooks4u also employs several chefs, including Founder and Chef Jodi Abel; Chef Nicole Estrada, owner of catering business Fresh Creations; and Chef Doug Moric, who boasts an impressive background in restaurant and catering. Each are an incredible asset to the team and bring their own unique set of skills to every cooking event. Other team members include Natalie Baker, who has served as the company's creative content writer for over three years. Together, the multi-talented team has provided exceptional service at its events, making the company a fan favorite among its many repeat customers.
"Twelve years ago, we began as a cooking class company, and now have transformed into San Diego's exclusive team-building and corporate cooking challenge headquarters," said Lajollacooks4u Founder and Chef Jodi Abel. "This year has been incredible with who we've hosted in our kitchen, along with the partnerships we've developed with Kapow, Another Side Tours and Hello! California. Because of the relationships we've cultivated and our multi-talented staff, I cannot wait to see who visits us in 2020!"
About Lajollacooks4u:
Lajollacooks4u is San Diego's premiere team-building and cooking events company. Since 2008, it has hosted companies from all over the globe, providing guests with a collaborative and one-of-a-kind culinary experience. With skilled facilitators, farm-to-table cuisine and a stunning view overlooking La Jolla, Lajollacooks4u has consistently been ranked one of the area's top attractions by TripAdvisor, having been awarded its Hall of Fame recognition for receiving a Certificate of Excellence five years in a row.
For more information about the company's hands-on team building events and gourmet cooking classes, visit http://www.lajollacooks4u.com or contact jodi@lajollacooks4u.com.