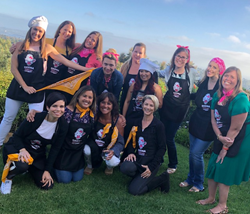 SAN DIEGO (PRWEB) July 30, 2019
The summer season has been super busy for Lajollacooks4u, San Diego's premiere team building and cooking events company. Not only has the company already hosted many of its signature cooking classes and team-building events, but it has also started offering Private Cooking Parties to its guests.
With Lajollacooks4u's Private Cooking Parties, guests prepare and enjoy a variety of California cuisine while taking in the view at the company's venue overlooking La Jolla. Every event is completely customized – down to the menu and budget – and groups can choose from a selection of popular cooking packages. Packages include Iron Chef-style competitions, pizza-making challenges, tacos and tequila contests, tapas cook-offs and more and offer guests an opportunity to collaborate, come together and have fun while using the freshest and most seasonal ingredients.
"We are so excited about this new service offering," said Lajollacooks4u Founder and Chef Jodi Abel. "With our Private Cooking Parties, guests are immersed in a one-of-a-kind experience with delicious farm-to-table cuisine, picturesque views and meaningful interaction as they come together to prepare a multi-course meal."
Delicious, engaging and fun, Lajollacooks4u's Private Cookies Parties are ideal for birthdays, anniversaries, bridal showers, rehearsal dinners, Girls' Night Out, and a variety of other special occasions.
About Lajollacooks4u:
Lajollacooks4u is San Diego's premiere team-building and cooking events company. Since 2008, it has hosted companies from all over the globe, providing guests with a collaborative and one-of-a-kind culinary experience. With skilled facilitators, farm-to-table cuisine and a stunning view overlooking La Jolla, Lajollacooks4u has consistently been ranked one of the area's top attractions by Trip Advisor, having been awarded its Hall of Fame recognition for receiving a Certificate of Excellence five years in a row. For more information about the company's hands-on team building events and gourmet cooking classes, visit http://www.lajollacooks4u.com or contact jodi(at)lajollacooks4u.com.