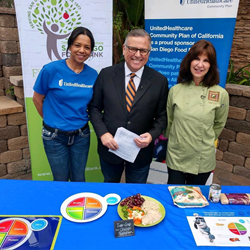 SAN DIEGO (PRWEB) March 27, 2019
In honor of National Nutrition Month, Lajollacooks4u has collaborated with the San Diego Food Bank to raise awareness on the importance of healthy meals and good nutrition. This month, Chef Jodi Abel appeared on two segments on KUSI's Good Morning San Diego as the Food Bank's volunteer chef.
The first segment addressed the nutritional value of USDA's MyPlate, a nutrition guide that simplifies the somewhat confusing visuals of the Food Pyramid. Along with Nurse Lisa Roberts from UnitedHealthcare, Chef Jodi showed that by following the model set by MyPlate, one can incorporate all four food groups for a nutritious low-budget and healthy meal.
A week later, Chef Jodi joined the Food Bank again for another fun and informative on-air segment. Together with Monique Knight from UnitedHealthcare, the two discussed the importance of learning about nutrition at a young age and shared how to make fun and healthy snacks for kids. Chef Jodi prepared a delicious alternative to potato chips, combining raw vegetables, like cucumber, carrots and jicama, with a tablespoon of chili lime seasoning and 2-3 tablespoons of lime juice. The result was a savory snack that kids and adults, alike, could crunch with delight. She also shared another kid-friendly recipe that families could make together: apple rounds covered in peanut butter, and topped with shredded coconut and raisins.
"Being in the food industry, I am so passionate about feeding the hungry," said Chef Jodi. "It's so inspiring to have such an amazing organization like the San Diego Food Bank in our community that helps those who are in need. I'm honored to be able to partner with them again and share my wisdom, insight and passion."
For more of Chef Jodi's healthy and nutritious recipes, visit the Lajollacooks4u blog at http://www.lajollacooks4u.com/blog. For a link to one of the on-air segments, please visit https://sandiegofoodbank.org/news-category/blog/nutrition-month-fun-healthy-snacks-for-the-kids-in-your-life/
About Lajollacooks4u:
Lajollacooks4u is San Diego's premiere team-building and cooking events company. Since 2008, it has hosted companies from all over the globe, providing guests with a collaborative and one-of-a-kind culinary experience. With skilled facilitators, farm-to-table cuisine and a stunning view overlooking La Jolla, Lajollacooks4u has consistently been ranked one of the area's top attractions by Trip Advisor, having been awarded its Certificate of Excellence four years in a row. For more information about the company's hands-on team building events and gourmet cooking classes, visit http://www.lajollacooks4u.com or contact jodi@lajollacooks4u.com.