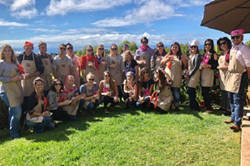 SAN DIEGO, CALIF. (PRWEB) February 27, 2019
Lajollacooks4u is pleased to announce that it is expanding its service offering. Starting today, the San Diego-based team-building and cooking events company will be offering a new cooking package available to teams of 30 people or more: Tacos + Tequila.
This fun-filled, interactive team-building event involves pairing two popular items together – tacos and tequila – in a competitive, fast-paced environment. It begins with team members playing several different icebreakers to form into teams. Then, the different teams race against the clock as they prepare a variety of tacos and topping items, using only the most seasonal ingredients. Team members also get a taste of mixology, as their tacos are paired with Lajollacooks4u's signature tequila cocktails. Once the winning team has been determined, all participants savor their food and drink creations as they take in the picturesque views overlooking Mt. Soledad in La Jolla.
Founder and Chef Jodi Abel is thrilled to include this new addition into her already-impressive arsenal of cooking packages. "I am so excited to pair tacos and tequila together and create this one-of-a-kind experience for our guests! By keeping up with the hottest culinary trends, Lajollacooks4u continues to keep our brand as relevant and unique as ever."
About Lajollacooks4u:
Lajollacooks4u is San Diego's premiere team-building and cooking events company. Since 2008, it has hosted companies from all over the globe, providing guests with a collaborative and one-of-a-kind culinary experience. With skilled facilitators, farm-to-table cuisine and a stunning view overlooking La Jolla, Lajollacooks4u has consistently been ranked one of the area's top attractions by Trip Advisor, having been awarded its Certificate of Excellence four years in a row. For more information about the company's hands-on team building events and gourmet cooking classes, visit http://www.lajollacooks4u.com or contact jodi@lajollacooks4u.com.