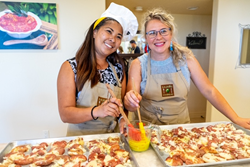 SAN DIEGO (PRWEB) January 16, 2020
With the New Year just beginning, there's no better time to recognize and celebrate a company's accomplishments in 2019. But, how should a team go about doing this? Enter Lajollacooks4u.
The San Diego-based team-building and cooking events company has been providing its one-of-a-kind cooking events to companies since 2008. Now in its twelfth year, its signature team-building format offers a variety of benefits for companies looking to bring their colleagues together. Not only do team members interact with one another and form deeper relationships, but Lajollacooks4u's customized programs also allow individuals to collaborate and have fun while engaging in some friendly hands-on competition in a cooking environment. The result is a boost in company morale, and, ultimately, work productivity.
Each cooking challenge begins as participants are split into groups using various ice breakers and interactive games. From there, group members are then divided into teams and guided by Chef Jodi Abel's staff as they compete against each other in creating several different menu items. Participants are judged by taste, presentation and teamwork, and ultimately compete to be the team with the most points. There is even a marketing "infomercial" component, which involves each group collaborating on how to best "sell" their menu item to the judges. Once all teams have completed their recipes, participants reconvene to enjoy the gourmet meals they co-produced, all while recognizing that their success was based on teamwork.
"There's a reason why Fortune 500 teams, like Amazon and Google, have come to us for our team-building cooking events," said Founder and Chef Jodi Abel. "Teams members see them as a valuable investment that ultimately creates a positive company culture and productive work environment."
She added, "We look forward to another great year hosting companies from all over the globe!"
About Lajollacooks4u:
Lajollacooks4u is San Diego's premiere team building and cooking events company. Since 2008, it has hosted companies from all over the globe, providing guests with a collaborative and one-of-a-kind culinary experience. With skilled facilitators, farm-to-table cuisine and a stunning view overlooking La Jolla, Lajollacooks4u has consistently been ranked one of the area's top attractions by TripAdvisor, having been awarded its Hall of Fame recognition for receiving a Certificate of Excellence five years in a row.
For more information about the company's hands-on team building events and gourmet cooking classes, visit http://www.lajollacooks4u.com or contact jodi@lajollacooks4u.com.