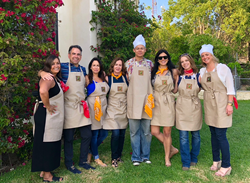 SAN DIEGO (PRWEB) December 12, 2018
Illumina, Kaiser Permanente, ResMed and Aetna were just a few of the companies who visited Lajollacooks4u's kitchen this year. The San Diego-based team-building and cooking events company has hosted an impressive guest list of Fortune 500 businesses, namely due to its signature team building and corporate cooking challenges.
Each group who visits receives a completely customized experience, right down to the menu and the food items prepared. Guests can select from a variety of different cooking packages offered, and can even determine the location of their event – either the Lajollacooks4u kitchen in La Jolla, or for groups of 30 people or more, an off-site venue of their choosing.
Once the team-building event begins, team members play several different icebreakers to form into teams and, then, are assigned a dish to prepare – either an appetizer, entrée or dessert. Friendly competition ensues, and each team works together to complete their dish in the allotted amount of time. Menu items are judged on taste, presentation and marketing quality, and once the winning team is determined, everyone reconvenes to enjoy the food prepared by one another as they take in the picturesque views overlooking Mt. Soledad in La Jolla.
"This year was all about our evolvement in the community and building relationships," said Lajollacooks4u Founder and Chef Jodi Abel. "Ten years ago, we began as a cooking class company, and now have transformed into San Diego's exclusive team-building and corporate cooking challenge headquarters. This year has been incredible with who we've hosted in our kitchen, and I can't wait for who visits us in 2019!"
What's next for 2019? Lajollacooks4u kicks off the New Year with a visit from Amazon, followed by an event with Janssen Pharmaceuticals.
About Lajollacooks4u:
Lajollacooks4u is San Diego's premiere team-building and cooking events company. Since 2008, it has hosted companies from all over the globe, providing guests with a collaborative and one-of-a-kind culinary experience. With skilled facilitators, farm-to-table cuisine and a stunning view overlooking La Jolla, Lajollacooks4u has consistently been ranked one of the area's top attractions by Trip Advisor, having been awarded its Certificate of Excellence four years in a row. For more information about the company's hands-on team building events and gourmet cooking classes, visit http://www.lajollacooks4u.com or contact jodi(at)lajollacooks4u.com.