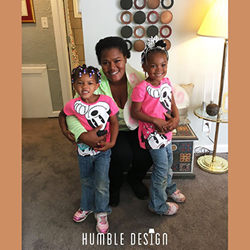 We are truly excited to be helping local families move into new homes where they can create new memories that will last a lifetime.
Lake Orion, MI (PRWEB) October 17, 2017
Mlynarek Insurance Agencies rounds out a year of donating time and energy to the betterment of the Detroit area by announcing the latest beneficiary of their thriving community enrichment program. The new campaign fundraises for Humble Design, a grassroots nonprofit organization which helps area families ready to transition out of homeless and abuse shelters into stable, low-income housing. By providing furnishings and design services, Humble Design turns four stark, bare walls into clean, dignified, welcoming homes for families who are ready for a fresh beginning. Readers who would like to help neighbors in need create happy new memories may donate at https://www.crowdrise.com/making-a-house-into-a-home-for-local-families.
Humble Design's core belief is that by coming home to a clean and friendly home, family members will be better able to focus on education, employment and building a better home life. Many of Humble Design's families have fled abusive situations with nothing but the clothes on their backs. By cleaning and repurposing gently used household furnishings, toys, housewares, etc., Humble Design is able to create total home makeovers on a very cost-efficient basis. They currently serve up to three families every week and have fully furnished more than 700 homes in Detroit over the last seven years.
"We are truly excited to be helping local families move into new homes where they can create new memories that will last a lifetime," said Kevin Mlynarek, owner of Mlynark Insurance Agencies. "Our Community Program was designed to make a positive impact, and in this season of giving, helping to provide a brighter future for families who have been through so much is a wonderful way to do that."
The caring team at Mlynark Insurance Agencies will be volunteering with Humble Design in December and are on a mission this fall to help furnish one special family's home with their fundraiser. Toward that end, the agency itself has pledged to donate $10 to Humble Design for each and every referral they receive for an insurance quote for the duration of the campaign. Compassionate members of the community wishing to pitch in and have the agency make a donation in their name may recommend friends and family for no-obligation quotations at http://mlynarekinsuranceagencies.com/causes/october-2017/.
In the meantime, Mlynarek Insurance has mobilized to vigorously promote the initiative through a variety of channels, including shining a spotlight on the initiative for Humble Design in this month's issue of their community magazine. Our Hometown is a dynamic print and digital publication which is delivered to thousands of households in and around Lake Orion and the greater Detroit area every month. Current and past issues may be enjoyed by visiting http://mlynarekinsuranceagencies.com/magazines/.
The agency's innovative community enrichment program, 'Agents of Change', chooses a new local organization, family or individual every few months to receive support. To stay in the loop on what's happening in the community by keeping tabs on past and future worthy causes, readers are encouraged to bookmark http://mlynarekinsuranceagencies.com/community/. Those wishing to submit ideas for future campaigns may do so at http://mlynarekinsuranceagencies.com/submit-causes/.
About Mlynarek Insurance Agencies
A full-service, award-winning, family owned and operated insurance and financial services firm serving Michigan's families and businesses from offices in Lake Orion, Kevin Mlynarek and his team of caring professionals have one simple mission: to provide the finest insurance and financial products in the industry while delivering consistently superior service. Their focus is on helping families to protect the things which are most important to them (their families, homes, businesses, cars and more) while developing strategies to achieve long-term financial goals. Their dedicated agents may be reached by calling 248-393-1300. More information on the agency may be found at http://mlynarekinsuranceagencies.com/.