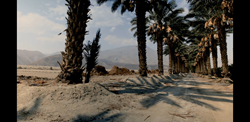 What we're doing is simple, we're simply changing the future
LOS ANGELES (PRWEB) November 30, 2018
Sumer Aroma Global Marketing Director Robert Ramirez announced that Sumer Aroma CEO Hazim Abdulzahra was sentenced to 16 months incarceration in federal court Central District of California on October 3, 2018 (Case # CR 14-00634 SJO: U.S.A. v. (1) Hazim Abdulzahra)
Mr. Abdulzahra would like to announce that he's interested in opening up his patent to agricultural research companies and Universities domestically and internationally. What brought this about started with his doing research in the US and his recent immigration case.
On January 29, 2018, according to court documents, Abdulzahra filed an ex parte application to extend his removal date from the United States. In support of this request, Abdulzahra noted that in August of 2017, Abdulzahra submitted a patent application to the United States Patent and Trademark Office. In September 2017, a request for prioritized examination was granted. Abdulzahra added that when the examination occurs, Abdulzahra's personal involvement was the patenting process since the inventor often has to respond to technical arguments made by the examiner. On February 2, 2018, the Court held a hearing and denied Abdulzahra's application. Abdulzahra was ordered to return on February 5, 2018, to discuss a removal date and surrender his green card. That hearing was subsequently continued to February 8, 2018. At a hearing held on February 8, 2018, the Court ordered Abdulzahra to remove himself from the United States consistent with the plea agreement by March 8, 2018. Mr. Abdulzahra failed to comply with this order.
Mr. Abdulzahra has been conducting research on a date farm located in Indio, CA utilizing his patented clay pot irrigation/water retention system (US Patent #US 9,986,695) while facing a federal indictment for committing immigration fraud. His US Patent was officially granted on June 5th, 2018 while he was being detained at MDC Los Angeles which is a Federal Holding Facility for mainly presentencing inmates.
Judgment day for Abdulzahra was October 3rd of this year. He provided the Court with the "allowing" for his U.S. Patent as well as an accompanying video of the entire process. The process his judge, public defender, and U.S. attorney said wasn't possible to obtain. He apologized for breaking his word to the Court but said it was more important to keep his word to the Quran. In the end, Judge Otero didn't acknowledge his U.S. Patent, the video, or Abdulzahra's apology and sentenced him to the maximum under the law. Abdulzahra, when asked how he felt in hindsight about the outcome, said, "It was worth it. There is always a price to pay for the things you believe in. A man must only be willing to pay it."
Mr. Abdulzahra is currently serving the remainder of his sentence at Taft CI with a release date of June 2, 2019. Inmate Register # 68240-112 For more information please feel free to contact Robert Ramirez at robram818@gmail.com or 310-922-4400.