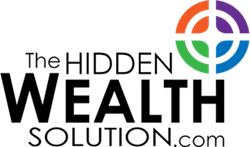 If you are approaching your retirement years you don't have the time for your investments to make a major come back like you may have experienced back during the 2008 recession. Now is the time to "recession proof" your retirement.
LAKE MARY, Fla. (PRWEB) February 28, 2020
Chuck Oliver, founder and CEO of The Hidden Wealth Solution urges Baby Boomers and Retirees to take action now to reduce losses in their retirement plans. Oliver encourages those approaching retirement and those already in retirement to take a closer look at their investment portfolio right now as the market is unsettled and the pandemonium of the Corona Virus escalates.
Oliver stated, "I can't stress this enough that now is the time to de-risk your retirement as a black swan like the Corona Virus is unexpected occurrence like the dot com stock market crash of 2000 and the stock market meltdown of 2008. Soon to be or already retirees can't afford a major setback in their savings. Let's be honest, if you are approaching your retirement years you don't have the time for your investments to make a major come back like you may have experienced back during the 2008 recession. Now is the time to "recession proof" your retirement. There are several vehicles to accomplish this, but I urge people to do this now before more volatility impacts their retirement savings. Between the Corona Virus outbreak and the Democratic party's ridiculous pro tax White House contenders, time is of the essence to adjust one's investment portfolio. What I'm talking about are tweaks such as reducing downside risk without giving up higher returns to addressing Roth IRA conversions, reducing your 401K contribution to focus on after tax opportunities. Many are asking how to best insulate their retirement from the IRS. We know market volatility and future tax burdens lie ahead and the uncertainty right now is pretty scary between the market's response to the Corona Virus and the upcoming presidential election outcome in November."
The Hidden Wealth Solution is a top-rated wealth management firm in Lake Mary, Florida. Their team of financial planners provide leading wealth strategy solutions for individuals and businesses. For over two decades Chuck Oliver and his team have provided expertise in helping Baby Boomers and Retirees save more and insulate their retirement savings from taxes, market loss and inflation. Oliver has been recognized as one of the top half of one percent of all financial advisors in the United States. He is also a best-selling author and nationally recognized speaker. Most recently Oliver was the key-note speaker at the 9th Annual Spine Surgery Symposium in Deer Valley, Utah. Attendees included top spine surgeons in the United States along with industry distributors. Oliver presented key changes in retirement tax laws for 2020 and how symposium attendees could better prepare financially for their retirement years while learning tax saving techniques for higher income earners. In January 2020 Oliver was awarded by the Lenz Entertainment Group to celebrate Oliver broadcasting over 500 episodes of the Hidden Wealth Radio.
Each weekend Oliver hosts his radio show entitled "Hidden Wealth Radio, helping people to discover and uncover their Hidden wealth" in Orlando, Florida, Tampa, Florida, Jacksonville, Florida, Dayton, Ohio and in Phoenix, Arizona. Followers can tune in weekly to hear Oliver discuss changes in tax law, how the upcoming presidential election continues to unsettle the economy and how those approaching retirement can re-tool their portfolio to protect from downside exposure and avoid heavy tax burdens. To hear Oliver's archived radio shows, visit online at: https://thehiddenwealthsolution.com/hidden-wealth-radio/
Oliver encourages those approaching their retirement years and those already retired that have at least $200,000 or more in their retirement to seek input from a wealth advisor that specializes in retirement optimization of income and avoidance of tax. Oliver added, "Your CPA is not going to advise you on how to save on taxes they will inform you on how much you will owe but they typically are not looking at how to navigate the government "gotcha's" as I call them so you can save taxes for tax uncertainty in the coming years. According to Morningstar retirees can increase their retirement income by an average of 31% with proper retirement income planning."
Below is a recent article Boomers and Retirees should become familiar with:
MarketWatch: Dow logged its largest reversal in 2 years Wednesday — here are 5 reasons stocks are tanking, and only 1 of them is the coronavirus
Those interested in learning more about how they can optimize their retirement income and insulate their savings from taxes are encouraged to check out more of Oliver's articles on his website. He addresses different tax saving vehicles those approaching retirement can consider. These insightful articles can be found online at: https://thehiddenwealthsolution.com/articles/
Oliver stated, "Between the heightened concern of the Corona Virus outbreak and the uncertainty of who will land in the White House come November, the media has exponentially caused confusion and concern for those looking at their retirement portfolio. Since the start of 2020 my team and I have launched our newest campaign entitled the S.T.O.P. Analysis (Saving Tax Optimization Plan) to help those approaching retirement learn how they can stop unnecessary taxes on their retirement. To request your S.T.O.P Analysis we encourage people to visit us online at: https://thehiddenwealthsolution.com/taxes-saved/ and fill out our online form. Once the form is submitted each request is sent the newest edition of Oliver's Retirement & Your Taxes Guide. This easy to read guide better explains the Tax Cut and Jobs Act and the newly passed SECURE Act.
The Hidden Wealth Solution is located at 250 International Parkway, Suite 146 in Lake Mary, Florida 32746. Their financial and wealth advisors are available Monday through Friday from 9AM – 6PM EST. For more information and to read client testimonials visit The Hidden Wealth Solution online at: https://thehiddenwealthsolution.com/