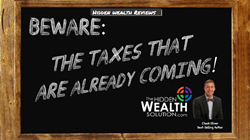 We help Baby Boomers and Retirees thrive in retirement. To be successful in avoiding the "government gotchas" as I call them, one must be proactive and make changes to their retirement planning.
LAKE MARY, Fla. (PRWEB) February 26, 2020
On Saturday February 22 and Sunday February 23, 2020, wealth strategy expert and retirement architect Chuck Oliver President of The Hidden Wealth Solution broadcasted his newest message that higher taxes are around the corner.
Oliver stated, "We help Baby Boomers and Retirees thrive in retirement. To be successful in avoiding the "government gotchas" as I call them, one must be proactive and make changes to their retirement planning. Some experts are projecting that even with a 40% value added tax, plus a 50% increase in payroll tax, plus a federal tax rate of 70% for a top wage earner, it will not be possible to out-run the deficit we have as a country. With the continual threat of the Democratic party and whether it be Socialism Sanders or "tax em big time" Billionaire Bloomberg's philosophies, now is the time for Baby Boomers and Retirees to insulate their savings and investments from the IRS. I can't stress this enough. The closer we get to the November presidential election the less time one will have to make the necessary changes needed. We help clients have an actual proactive tax savings plan, not just an average traditional financial plan but a lifetime retirement managed plan that addresses eliminating taxes. Having a saving tax optimization plan, not just initially, but a managed plan throughout the changing of our politics and the changing of government programs. For years people have put the lion's share of their savings in tax deferred accounts like IRA's, 401K's, 403B's. We teach people about other options as opposed to saving or investing in tax deferred opportunities so they avoid being heavily taxed when it comes time to take a distribution or leave an inheritance to family."
Recently Oliver launched the 2020 edition of their "Retirement and Your Taxes Guide." This easy to read guide discusses the SECURE Act and the details of the Tax Cuts and Jobs Act. It helps Baby Boomers better understand the new retirement risks. Oliver stated, "Future politicians continue to propose selfish higher taxes through targeting retirement income from those who have saved strongly in IRA's and from higher inheritance tax after a retiree passes. The problem as we see it is that traditional retirement planning doesn't provide clarity or direction for protection from the impact of these ridiculous taxes. Our goal is to educate those approaching retirement so they can insulate themselves from the IRS and long term thrive in retirement. For years people have been encouraged to invest in a 401K especially those working for a company where their employer does a contribution match. With the uncertainty of which party will land in the White House in the coming years, it could be very costly for those who have put all their eggs in a 401K or traditional Wall Street basket. Now is the time to stress test and de-risk your investment portfolio. The recent third largest 1,000 point stock market drop in history and the out of nowhere Corona virus are an example of how unexpected volatility can impact retirement security. The closer we get to the November Presidential elections there will be less time to make corrections. Learn proven solutions that protect the downside and provide superior performance upside locked in and protected."
To receive Oliver's 2020 edition of "Retirement and Your Taxes Guide" Baby Boomers and Retirees are encouraged to request a Saving Tax Optimization Plan (S.T.O.P.) analysis by visiting online at: https://thehiddenwealthsolution.com/taxes-saved/.
The 2020 edition of this guide will offer greater detail into the new rules with regards to Required Minimum Distributions, income taxes on Social Security benefits, 2020 Federal Income tax brackets, as well as tax comparisons from 2017 vs 2018.
Oliver hosts a weekly radio show entitled "Hidden Wealth Radio" in Orlando, Florida, Tampa, Florida, Jacksonville, Florida, Dayton, Ohio and Phoenix, Arizona. Those interested in following can tune in each Saturday and Sunday to Newsradio 93.1FM/540AM WFLA in Orlando at 11am EST on Saturdays and 1pm EST on Sundays. For those in Jacksonville, Oliver can be heard on News 104.5FM WOKV on Sundays at 11AM EST, in Tampa on Newsradio 970AM WFLA on Sundays at 11AM EST, in Dayton on WHIO Newstalk Radio 95.7FM/AM1290 on Sundays at 9AM EST and in Phoenix on Newstalk 550 KFYI on Sundays at 11AM MST. Each week Oliver's shows are archived on The Hidden Wealth Solution's website located at: https://thehiddenwealthsolution.com/hidden-wealth-radio.
For those on SoundCloud, Oliver's weekly archived broadcasts can be found at
https://soundcloud.com/charlesoliverandthehiddenwealthssolution/tracks
Oliver and his team of wealth advisors educate clients on how they can reduce taxes so they can keep more and leave more. Some of the techniques include strategic Roth conversions, Un-Taxing IRA's, Roth IRA Alternatives to establishing a health savings account (HSA), deferring claiming Social Security benefits, establishing a flexible spending account (FSA), making charitable donations that are tax-deductible, signing up for Medicare and optimizing home equity for retirement income with downsizing your home. These are just a few options Oliver discusses with clients. Oliver has written several articles that address tax savings, the SECURE Act as well as key findings to a retirement survey. These articles can all be found online at https://thehiddenwealthsolution.com/articles.
Oliver is an industry recognized top rated financial professional and best-selling author. He is a member of the Top of the Table, an organization that recognizes the top half of one percent of financial and insurance professionals worldwide. Over the years Oliver has mentored and coached hundreds of financial professionals, tax attorneys and CPA's across the country. He is a two-time best-selling author. He is also an author of industry leading consumer educational books including "The Baby-Boomer Retirement Breakthrough" the unfair advantage to a S.A.F.E. and Secure Retirement, "What to do at 62" how to maximize Social Security Benefits and how to prevent benefits from being taxed. "My Debt into Wealth" how to be debt free while building wealth at the same time. Oliver has also been a Fox TV News financial contributor and has been featured in The Wall Street Journal, Newsweek and USA Today as well as been featured on ABC, NBC and CBS.
To learn more about tax saving strategies, Oliver hosts a weekly webinar where those looking ahead to retirement can learn more about strategies to preserving their wealth and insulate their investments from the IRS. The next scheduled series of free webinars are on March 3rd, 10th, 17th, 24th and 31st. Times vary throughout the day with the first one starting at 11AM EST and the last one scheduled for 10PM EST. To register online visit: https://retirementprotected.com
The Hidden Wealth Solution is a Central Florida based organization and is located at 250 International Parkway, Suite 146, Lake Mary, Florida 32746. For decades, clients worldwide have relied on the wealth advisors at The Hidden Wealth Solution for lifetime retirement planning. Their advisors are available Monday through Friday form 9AM EST to 6pm EST. For more information visit online at: https://thehiddenwealthsolution.com.