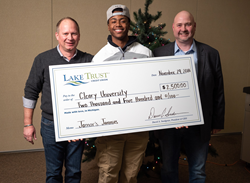 "Today, we're celebrating Jamar Bray and his home run, Jamar's Jammies," said David Snodgrass, President and CEO of Lake Trust Credit Union. "Jamar remembers where he comes from and remembers others in need."
BRIGHTON, Mich. (PRWEB) December 07, 2018
Lake Trust Credit Union President and CEO David Snodgrass announced a donation of $2,500 worth of pajamas to benefit Jamar's Jammies for underprivileged inner-city youth. Cleary University senior and baseball team member Jamar Bray conceived the unique effort to bring a smile and warmth to a child in need this holiday season. The announcement took place at the school's Howell campus 2018 Holiday Tree Lighting Event sponsored by Lake Trust and hosted by Cleary University President and CEO Jayson E. Boyers on November 29, 2018.
Jamar recalled that growing up in a single parent household he knew his mother's struggles, including the sacrifices she made so he could live life and play baseball. He envisioned Jamar's Jammies as a pajama drive to give back and positively impact families and underprivileged youth in troubled areas during the holiday season.
"Today, we're celebrating Jamar Bray and his home run, Jamar's Jammies," said David Snodgrass, President and CEO of Lake Trust Credit Union. "What's impressive in this young man, in addition to the great education he gets at Cleary, is wisdom. Jamar remembers where he comes from. And he remembers others in need. So I think of all the children whose hearts will be touched this holiday because Jamar said, 'I can at least do something so that a child in need has something this year.' He started it all with a thought that he needed to try. Now it's an impressive cause that we're proud to support."
"We all know what a fine young man Jamar is," said President Boyers. "He exemplifies the spirit of Cleary that extends beyond the classroom and baseball field to the community. We also would like to thank our partner Lake Trust Credit Union."
Cleary University announced in November 2017 that its new 150,000-square-foot athletic complex would be named Lake Trust Stadium and is slated to open in spring 2019 on the school's campus.
About Lake Trust
Lake Trust Credit Union has more than $1.7 billion in assets to rank fifth-largest in Michigan and has more than 176,000 members. With federally NCUA-insured branches located in 35 Michigan counties, Lake Trust is committed to creating stronger Michigan communities. Membership is open to anyone who lives, works, worships or attends school in its service area. For more information, visit laketrust.org and follow @LakeTrustCreditUnion on Facebook and @laketrust on Twitter, Instagram and Pinterest. Visit https://laketrust.org/moved-by-good/ and follow @movedbygood on Twitter, Instagram, Facebook and LinkedIn.
About Cleary University
Founded in 1883, Cleary University is an independent, not-for-profit, multi-site, Michigan-based, specialized business university, providing practical, project-based education enabling an immediate alumni contribution to employers, families and communities. The University's mission is to enrich students' lives through the knowledge, skills and credentials that advance careers. Learn more at http://www.cleary.edu or connect with Cleary University on Facebook (https://www.facebook.com/ClearyU) or Twitter (@Cleary1883).