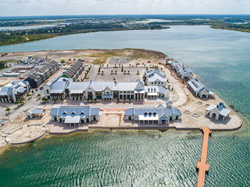 "Waterside Place is taking shape beautifully and I have no doubt that it will quickly become a lifestyle destination where residents and people throughout the region can enjoy unique, high-quality shopping, waterfront dining and entertainment."
LAKEWOOD RANCH, Fla. (PRWEB) May 03, 2021
Lakewood Ranch, the nation's best-selling multi-generational master-planned community, has announced three additional tenants in the community's new, 36-acre Waterside Place development, which is on track to become the region's premier experiential lifestyle destination.
Set to open in late summer of 2021, Waterside Place will embody the essence of Lakewood Ranch, serving as a retail, dining, wellness and entertainment hub with waterfront charm. Whether guests are looking to enjoy a morning coffee and jog along the nature trails or opt for an evening lakeside concert followed by dinner and craft beers with friends, Waterside Place will appeal to a variety of lifestyles and interests.
Upon opening, Waterside Place will serve as the heart of Waterside – Lakewood Ranch's first Sarasota village – and offer an elevated community experience that extends beyond that of a traditional town center. Situated on a 36-acre peninsula overlooking the mile-long Kingfisher Lake, the development will blend arts and entertainment destinations with 115,000 square feet of unique in-line and freestanding commercial, retail and office space; diverse dining options; an eight-acre park; miles of nature trails; communal "pop-out" spaces; a water splash park and more.
The town center will further activate the dynamic area by hosting festivals and becoming the future home for the Farmers' Market at LWR, connecting local farmers and artisans with area residents and their guests. Additionally, Lakewood Ranch will work with Waterside Place tenants to create custom programming tailored to their consumers.
Good Liquid Brewing Co., 3 Form Fitness, and ManCave for Men are set to join previously announced tenants: O&A Coffee Supply, CROPjuice, Duck Donuts, Korê, Derek The Salon, PAINT Nail Bar, SmithLaw, The Yoga Shack and Kilwins.
Good Liquid Brewing Co. is a Bradenton-based brewery offering an array of unique beers. Known for its out-of-the-box flavors such as Fruity Pebble Beer, Jalapeno Mango Sour with Ginger, Blackberry Raspberry Marshmallow Sour and Blonde Milk Stout, Good Liquid Brewing Co. specializes in IPAs, lagers, sours and more, offering "a beer for everyone." Set to open at Waterside Place this fall, the brewery – founded in 2017 by Mike and Sandra Krail – will also feature classic pub fare, from starters, hand-tossed pizzas and elevated burgers to lighter dishes and condiments made with its signature beers. The waterfront location at Waterside Place will feature a modern industrial look and include an outdoor space with fire pits and games. There will also be a separate, glass-enclosed brewing room, inviting guests to enjoy a glimpse into the brewing process. This will be the first location for Good Liquid Brewing Co. within Lakewood Ranch.
3Form Fitness reinvents the traditional idea of fitness via three forms of exercise – strength, endurance and cardiovascular – to achieve three forms of results: looking, moving and feeling better. 3Form Fitness was founded in 2021 by Michael Demarski, a 15-year fitness industry expert, who aims to change the philosophy of the gym experience by providing a unique environment that makes clients feel comfortable, empowered and supported throughout their fitness journey. The studio will feature a modern, first-floor space that differs from both typical and boutique gyms. Through a mix of staple exercises and funky trends, Demarski hopes to help clients "become happier overall," adding, "improving their health is my goal as well as theirs." This will be the first location for 3Form Fitness.
ManCave for Men is a luxury modern barber shop featuring highly experienced barbers specializing in cuts and finishes, hot shaves, beard facials and more. Clients will also enjoy an array of services, including manicures and pedicures, massages, waxes and facials. This will be the first location for ManCave for Men within Lakewood Ranch.
"Waterside Place is taking shape beautifully and I have no doubt that it will quickly become a lifestyle destination where residents and people throughout the region can enjoy unique, high-quality shopping, waterfront dining and entertainment," said Kirk Boylston, president of LWR Commercial. "We look forward to opening and sharing Waterside Place with our neighbors this year, and we believe it will exceed all expectations!"
Other future amenities include the beloved Players Centre for Performing Arts, which is relocating from Sarasota to an expanded, 70,000 square foot performing arts center at Waterside Place.
Waterside will feature more than 5,000 for-sale and rental homes in up to 12 neighborhoods ranging from $250k to over $2M. All neighborhoods are connected to Waterside Place via trails and many homes will benefit from water taxis to the town center. To date, over 500 homes have been sold in Waterside, and occupancy is ahead of schedule at The Botanic and The Adley, apartment communities within close proximity to Waterside Place.
Founded in 1994, Lakewood Ranch spans over two counties with 20 villages, and is consistently rated as one of the best-selling master-planned communities in the country by both RCLCO and John Burns Real Estate Consulting, two independent real estate consulting firms. In January, both firms designated Lakewood Ranch as the best-selling master-planned community in the U.S. for all ages for the third year in a row.
For more information about Waterside and Waterside Place, visit http://www.WatersidePlace.com. For more information on Lakewood Ranch, please contact Lisa Barnott at 941-757-1542.
# # #
About Lakewood Ranch
Lakewood Ranch is the 33,000+-acre award-winning master-planned community in Sarasota and Manatee counties on the West Coast of Florida. Just minutes from the Gulf Coast beaches and cultural assets in Sarasota, Lakewood Ranch is already home to more than 42,000 residents and features A-rated schools, the Lakewood Ranch Medical Center, the Sarasota Polo Club, the 75-acre Premier Sports Campus, its own Main Street with theaters, shopping and dining, and more than 5.5 million square feet of commercial property. For more information visit http://www.lakewoodranch.com.