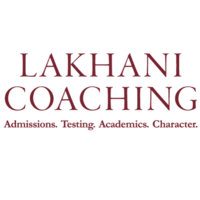 Lakhani Scholars is a one-in-a-million opportunity. You are getting guidance with testing, admissions, and more. It's giving me the strategy that I wouldn't have been able to access.
NEW YORK (PRWEB) June 26, 2019
Lakhani Coaching, a globally renowned, bespoke academic coaching firm that helps students with selective college admissions, individualized test prep, character development, and academics, has named Fernanda Padilla Colin as its 2019 Lakhani Scholar. As a Lakhani Scholar, Fernanda -- a tenth-grade, first-generation Mexican-American -- will receive $10,000 worth of free coaching, which will provide her with valuable direction as she prepares to advance her educational journey.
"I want guidance on how I can achieve my goals and in return, one day, be able to help others," Fernanda said. "Lakhani Scholars is a one-in-a-million opportunity. You are getting guidance with testing, admissions, and more. It's giving me the strategy that I wouldn't have been able to access."
Fernanda is passionate about her education and hopes to one day become an immigration lawyer, to help disenfranchised people navigate the complex immigration system. She later aspires to be elected to Congress. Her interest in helping immigrants stems from her own family's experience: at three years old, she was entrusted to a stranger with whom she crossed the Southern U.S. border on foot -- as each member of her family did -- for the safest possible passage. Her parents soon recovered Fernanda and her older brother, and brought the family to Berkeley, California, where her father earned a living working for fast-food chains and later in building maintenance, while her mother cleaned houses. Two years ago, after almost 10 years in the U.S. immigration system, uncertain at times whether they would be able to stay legally, the family earned permanent residency status -- a clear path to citizenship.
"As a child you don't understand what a status is, (and) you are frustrated that you have to work harder than the other kids. You are walking on eggshells as an immigrant," Fernanda said, adding that she derives strength from the struggles that she and her family faced as immigrants but does not choose to define herself by that status.
Instead, Fernanda defines herself as someone who values "hard work,'' and has a "progressive and determined attitude on life."
"My education is my life because I know it is my path to success," Fernanda shared.
Hafeez Lakhani, founder and President of Lakhani Coaching, started the Lakhani Scholars program to bring equity to the college admission process by giving scholarship recipients the same access to coaching resources that students from wealthier families benefit from.
"Ninety percent of my education at Yale came from my peers," Lakhani said. "I aspire for Fernanda, having overcome so much adversity, to gain access to an equally powerful intellectual experience. Even more so, I'm thrilled for what she'll impart to her classmates."
Sarah Cadorette, one of Fernanda's references and the Bay Area School partnerships manager at Global Glimpse (a non-profit organization that partners with high-performing high schools to provide a two-year leadership program) described Fernanda as "already a role model for other students and even adults" adding that "she takes any leadership opportunity she can find. She has a unique ability to see the big picture and have a global perspective that extends even beyond her community."
Fernanda's application emphasized her passion for leadership and determination to give back. Her parents have pushed her hard to excel both academically and as part of the school community. She has a 4.0 grade-point average and studies Mandarin, while her favorite subject is chemistry. An avid squash player, Fernanda also started a sustainability club and is a member of her school's robotics team.
"As much as I want this scholarship just for the academic benefits, I also want it because I know that I would be helping my family," Fernanda said. "My parents work all day to give us the opportunity to learn. Our financial situation is not the best, but I want to show them that their sacrifice means something."
Of Fernanda, Lakhani said, "She is a straight-A student despite overcoming incredible obstacles in her life. We are thrilled to not only celebrate her hard work but to lend her a hand in fulfilling her long term academic dreams."
Lakhani Coaching emphasizes the "three paradigms" of high school success: grades, scores and character, with character often becoming the most critical focus. Lakhani and his team work closely with students to identify their true passions in life and coaches them on pursuing unique growth experiences related to those passions.
"We often say that grades and test scores get you into the 'good' pile," Lakhani said. "but it is your character that helps you stand out from the good pile.
"Our students earn higher marks, more letters of acceptance, and more opportunities to achieve, but what's more important is that they become better thinkers with bigger dreams."
Fernanda, now one of those students, added, "To kids that may want to apply to Lakhani Scholars: You can never dream too big or set your goals too high. I thought I wasn't going to be able to get this scholarship, and I did."