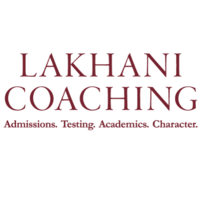 I hope to have more than 100 students on scholarship by 2025
NEW YORK (PRWEB) November 30, 2020
Lakhani Coaching (http://www.lakhanicoaching.com), a globally renowned education program that helps students become more competitive college applicants by harnessing their passions and maximizing their academic growth, today announced that its annual Lakhani Scholars program is now a standalone 501(c)(3) nonprofit organization.
Lakhani Scholars awards $10,000 of elite coaching services to low income high school sophomores, providing a full suite of one-on-one globally renowned tutoring services at zero-cost. This includes 35 hours of free high school career coaching, including 24 hours of SAT/ACT preparation and 11 hours of college admissions help, academic guidance and character coaching for the remainder of their high school career. The program also mentors students through the school selection and financial aid application processes.
Hafeez Lakhani, Founder and President of Lakhani Coaching, said establishing 501(c)(3) status is an important step toward realizing his dream of helping as many students on scholarship as he has paying for his services. To date, there have been two Lakhani Scholars, Lisa David in 2018 and Fernanda Padilla Colin last year. Lisa was accepted to her top choice George Washington University and Fernanda has applied early decision to Yale. The 2020 scholars will be announced later this month.
"Until now, I've been funding Lakhani Scholars on my own," Lakhani notes. "While I will continue to use my personal resources to support the program, the nonprofit status will make it feasible and attractive for many others – including current clients – who have been asking how they, too, can help. I hope to have more than 100 students on scholarship by 2025."
Contributions to Lakhani Scholars are 100% tax deductible and can include corporate, foundation, individual or stock donations. Benefactors can finance a full scholarship for $10,000; partial scholarships can also be sponsored. To learn more about the program, including how to donate, visit https://www.lakhanicoaching.com/scholarship.