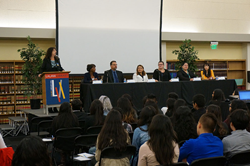 Los Angeles, CA (PRWEB) November 30, 2016
Whether we like it or not, adversity is part of life. Yet, some people manage to overcome challenges and achieve great things. What can we learn from them?
LA Law Library is pleased to present a film screening featuring judges, justices and other legal professionals who have overcome incredible odds to achieve success. These remarkable individuals will share their personal experiences and explore questions such as:

What obstacles to success and attainment exist in today's society?
Which doors have been opened? Which is still closed? Which has yet to be explored?
Join us for a public reception and screening as we celebrate this film and the individuals whose lives are featured in it.
A few of the individuals featured in the film are:

Jackie Lacey, Los Angeles District Attorney
Martha Carrillo, Deputy District Attorney
Craig Barnes, Managing Partner, Sedgwick LLP
Betty Boyd, lawyer and legal scholar
Luis Rodriguez, Deputy Public Defender and former President, State Bar of California
Janeen Steel, Founder, Learning Rights Law Center
Deborah Sanchez, Judge and Native American Elder
This film is made possible with support from California Humanities, a non-profit partner of the National Endowment for the Humanities. Visit http://www.calhum.org. and our partner at the Los Angeles Education Partnership.
To pre-register for this event, please click here.