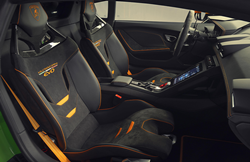 AUSTIN, Texas. (PRWEB) February 15, 2021
Lamborghini Austin, an exotic car dealership in Austin, TX, currently has one model of the 2021 Lamborghini Huracan EVO in stock, along with some pre-owned Lamborghini models. Drivers in the Austin area who are interested in purchasing a Lamborghini Huracan EVO are encouraged to act fast to claim this limited production model. Drivers looking for a pre-owned Lamborghini model can also find a vehicle this month at Lamborghini Austin.
The 2021 Lamborghini Huracan EVO RWD model in stock at Lamborghini Austin is a coupe, rear-wheel-drive model in the Blanco Icarus color option, which is a bold white. Its engine is a 10-cylinder gasoline engine paired with an automatic transmission. The interior color of the available model is Nero Ade, which is a black option that contrasts well with the white exterior. The price for this model is $248,812. Drivers who are interested in purchasing the 2021 Lamborghini Huracan EVO RWD can find more information and get started on the buying process at the dealership's website, lamborghiniaustin.com. There they can get a lease quote or get pre-approved for credit approval by navigating to the online inventory and the model in question.
Other Lamborghini models currently available at the dealership include a 2017 Lamborghini Huracan, a 1999 Lamborghini Diablo Roadster, a 2020 Lamborghini Huracan EVO and a 2016 Lamborghini Aventador Pirelli Edition LP 700-4. These are all pre-owned models that drivers can view online in the dealership's pre-owned inventory. As fans of Lamborghini will know, each model is produced only in limited numbers, so drivers are encouraged to act fast for a model they desire.