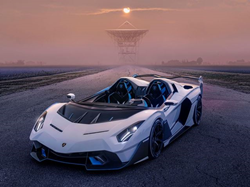 AUSTIN, Texas (PRWEB) March 29, 2021
Lamborghini Austin, a dealership in Austin, Texas, offers Certified Pre-Owned Lamborghini vehicles for drivers who want an exotic supercar, but aren't keen on buying a new Lamborghini. These models come with three main benefits for their new owners: they are inspected for quality, they come with an additional Lamborghini warranty and they are covered by roadside assistance during the duration of the warranty period.
The quality inspection for Lamborghini Certified Pre-Owned models is a prerequisite for being accepted into the Certified Pre-Owned Program. In order to become a Certified Pre-Owned Lamborghini, the model must be checked by a certified technician and pass more than 150 points of inspection. One thing that is checked is the vehicle's mileage, which must be under 43,500 miles for the vehicle to be accepted into the program. Then the vehicle's history is checked because it must have been owned for fewer than 84 months by its previous owner to be certified, and it must have completed routine maintenance. After a physical inspection of the vehicle, a road test is given, and eligible vehicles are accepted as Certified Pre-Owned Lamborghini models.
The warranty given to Certified Pre-Owned Lamborghini models lasts between 12 and 24 months. The roadside assistance lasts for whatever period of time the warranty is given. With roadside assistance, the owner of the vehicle will never be stranded, as this service is available every day of the year at any hour. Drivers can call for assistance for covered issues such as running out of fuel.
Drivers who are interested in Certified Pre-Owned Lamborghini models are encouraged to check out the dealership's website,lamborghiniaustin.com. On the website, drivers can review information on the Lamborghini Certified Pre-Owned Program and they can view the dealership's current inventory of Certified Pre-Owned Lamborghini models.