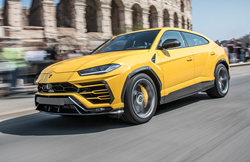 AUSTIN, Texas (PRWEB) April 12, 2021
Lamborghini Austin, a dealership in Austin, Texas, offers the Lamborghini Tow Hitch to be retrofitted on any Lamborghini Urus model that was not configured with the Towing Package. The Lamborghini Towing Hitch full installation price is set at $2,595. Drivers who are interested in getting this package retrofitted onto their vehicle are encouraged to contact the dealership at their earliest convenience.
The Lamborghini Towing Hitch Package is perfect for drivers who want to tow a boat, sportscar or other gear behind their Lamborghini Urus. It also allows drivers to install a bike rack onto the tow hitch for those drivers who would like to bring multiple bikes on their next trip.
In addition to offering retrofitting for the Lamborghini Urus, Lamborghini Austin offers other upgrades for this model, including carbon fiber design elements. Drivers who would like to enhance the looks of their Lamborghini Urus can now add carbon fiber to the exterior and interior of their vehicle, including the kick plates of the Lamborghini Urus. The Carbon Fiber Kit Exterior full installation price is $29,000, the Carbon Fiber Kit Interior full installation price is $9,198 and the Carbon Fiber Kick Plate full installation price is $4,279.
One last optional upgrade available at Lamborghini Austin is soft-close doors for the Lamborghini Urus. These doors shut softly to prevent any damage to the vehicle or anything that is blocking the doorway. The price of the Soft Close Door Kit full installation is $4,417.
To make an appointment to get their vehicle retrofitted, drivers can call 512-953-0000. Contact information, hours and directions for Lamborghini Austin can be found on the dealership's website, lamborghiniaustin.com.