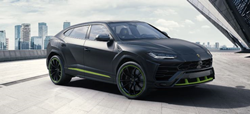 AUSTIN, Texas (PRWEB) January 07, 2021
Lamborghini Austin, a luxury exotic car retailer in the Austin area, is promoting the Lamborghini Urus Graphite Capsule color options available in the model year 2021. Drivers who are interested in getting their own luxury exotic model are encouraged to check out the Lamborghini Urus Graphite Capsule options.
The Lamborghini Urus Graphite Capsule comes in matte color options. The new matte colors include Nero Noctis, Grigio Keres, Grigio Nimbus, and Bianco Monocerus. All of these options are perfect for drivers who enjoy neutral options. Nero Noctis is a matte black color option that can be paired with black wheels for a monochromatic attire. Grigio Nimbus and Grigio Keres are two shades of dark gray, while Bianco Monocerus is a white matte color option.
For those who are looking for something more colorful, the Lamborghini Huracan Evo Fluo Capsule comes in several rainbow shades. Currently, Lamborghini Austin has a 2021 Lamborghini Huracan Evo in stock in the Bianco Icarus color option. The dealership gets new stock every month, and drivers are encouraged to contact the dealership for more information on any model of interest.
The Lamborghini Urus Graphite Capsule has a top speed of 305 km per hour. It can accelerate from 0 to 100 km per hour in just 3.6 seconds. This powerful vehicle is perfect for drivers who like to drive fast and experience the excitement of driving a supercar. For more information on this model and other Lamborghini models, drivers can head to the Lamborghini Austin website, lamborghiniaustin.com.