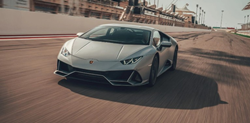 CHARLOTTE, N.C. (PRWEB) January 10, 2020
The Lamborghini Huracan is the Italian automaker's most affordable sports car currently in production. With convertible, rear-wheel drive and performance variants, it's the starter Lamborghini for shoppers new to the brand. Lamborghini Charlotte currently has six models in stock at their location in Charlotte, North Carolina.
The stock at Lamborghini Charlotte consists mostly of 2018 model years of the vehicle. Since the Huracan was introduced rather recently, the oldest model year of the Huracan is a 2016. The five 2018 Huracan models range in price from $200,000 to $274,900. The most common trim level among them is the Huracan Performante, a trim that increases the horsepower and torque beyond the model's base level.
One of Huracan models in stock is a rear-wheel drive coupe. This version of the Huracan is the least expensive, comes in the orange color named Arancio Borealis and has a pearl effect to it. Lastly, the dealership has a Huracan Spyder available. This convertible version also has rear-wheel drive and comes in Blanco Monocerus (white).
Since each model is pre-owned, every Lamborghini Huracan model found at Lamborghini Charlotte has a at least a thousand miles on it. The rear-wheel drive coupe has the least, at 1,139 miles, while most of the others have crossed the 4,000-mile mark. One of the Performante models has travelled 5,901 miles, a fair number for two-year-old car not designed for everyday travel.
Other pre-owned Lamborghini models include the Urus SUV, the flagship Aventador and the retired modern classic Gallardo. The Lamborghini Charlotte pre-owned vehicle stock are all 2014 or newer model years, including one lightly used 2020.
Car shoppers interested in the stock of used Huracan models or any other Lamborghini model are encouraged to contact Lamborghini Charlotte over the phone by calling 980-960-9562 or by visiting the location at 6500 E. Independence Blvd. Charlotte, North Carolina 28212. To reach a representative online, customers can send a message through the Lamborghini Charlotte contact page.