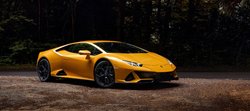 Austin-based Lamborghini dealership provides many exciting options for supercar shoppers, including the legendary Huracan EVO.
AUSTIN, Texas (PRWEB) January 19, 2023
Supercar and luxury automobile shoppers in Texas and around the country can find excellent options for pre-owned vehicles at Lamborghini of Austin. One of the recent acquisitions by the dealership that is for sale now is a superbly maintained 2020 Lamborghini Huracan EVO. This model is the basis for the cars used by the Lamborghini Super Trofeo racing team. It is a V10 with all-wheel drive, which gives it incredible traction and outstanding performance capabilities. Some other features of the car include:

Black Grill
LED Brakelights
Valet functionality
LDVI Electronic Stability Control (ESC)
Lamborghini Doppia Frizione 7-Speed dual clutch automatic transmission
Front and rear double wishbone automatic ride control sport tuned adaptive suspension
Some specs to consider about this car include:
0-60 MPH in 2.5 seconds
0-100 MPH in 5.7 seconds
631 horsepower
413 foot-pounds of torque
1.1 g on the skidpad
The considerable traction offered by the AWD system, paired with the powerful motor and sophisticated transmission enable the EVO to perform above and beyond most supercars. It is lightweight, weighing roughly 3,500 pounds (similar to a Volkswagen Jetta compact sedan), which gives it an incredibly high power to weight ratio. It is also worth noting that the car's cockpit-like cabin is comfortable and luxurious but made to hold the driver and passengers firmly in place. The vehicle shares some styling characteristics with earlier Lamborghini models, which gives it a strikingly familiar yet up-to-date look.
Individuals who would like to learn more about buying a Lamborghini or other luxury sport vehicle can visit the dealership website at http://www.lamborghiniaustin.com. Interested parties may also contact Lamborghini Austin by dialing 833-331-0322, or by visiting the dealership at 4108 North Lamar Boulevard in Austin, Texas.