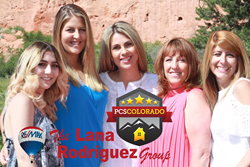 Colorado Springs, CO (PRWEB) August 25, 2017
RE/MAX Properties, Inc. Realtor Lana Rodriguez and The Lana Rodriguez Group (LRG) recently rolled out PCS Colorado in order to help military families who receive Permanent Change of Station (PCS) orders transition to Colorado Springs. The goal of PCS Colorado is to assist government and military service members with finding the right home to rent or buy in Colorado Springs so that they can start on the right path to homeownership and ultimately experience the joys of Colorado Springs and the adjacent areas.
"Every year, hundreds of thousands of Department of Defense (DoD) servicemen and women receive PCS orders that cause families to move from their current station to a new station across the country," said Bryan Rodriguez, LRG operations manager and an active-duty soldier. "At times, these PCS orders are challenging, requiring support to make a seamless transition. Luckily, PCS Colorado understands and cares about these families' well-being, and proudly serves DoD families."
PCS Colorado provides guidance and assistance from helping search for a new home in a fierce and competitive market and acquiring the best rates for mortgage financing to offering effective real estate solutions. With historic low interest rates, low inventory and an ever-increasing demand to be part of "America's Best Kept Secret," Colorado Springs has created a market challenge for buyers and sellers.
"The real estate professionals at The Lana Rodriguez Group have answered the call to duty and assembled a force to protect and serve any and all buyers and sellers and help them face this market challenge," concluded Lana. "Our mission is to establish an undeniable trust, reveal the definition of 'high-caliber performance' and, most importantly, demonstrate the care clients deserve."
About Lana Rodriguez, RE/MAX Properties, Inc., PCS Colorado
Lana Rodriguez works with buyers and sellers in the El Paso County area. She is a recipient of the Self-Marketing Award for 2015, the RE/MAX and RMP 100% Club Award for 2015, RE/MAX Chairman's Club, #1 Transaction Closed Individual Associate, Quantum Leap & Hall Of Honor for 2016, and was in the top 10% for 2015 and top 1% for 2016 in the Pikes Peak region. LRG is ranked in the top 1% performing Realtors in the Pikes Peak MLS, recipient of the RE/MAX Hall of Fame Award and has been named among "America's Best" by 2017 Real Trends. For more information, please call (719) 644-8900, or visit http://www.pcscolorado.com. The office is located at 2630 Tenderfoot Hill Street, Suite 100, Colorado Springs, CO 80906.
About the NALA™
The NALA offers small and medium-sized businesses effective ways to reach customers through new media. As a single-agency source, the NALA helps businesses flourish in their local community. The NALA's mission is to promote a business' relevant and newsworthy events and achievements, both online and through traditional media. The information and content in this article are not in conjunction with the views of the NALA. For media inquiries, please call 805.650.6121, ext. 361.