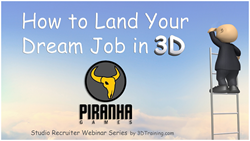 Whether it's creating the next Angry Birds or Flappy Birds Game, artists have more opportunities than ever.
New York, NY (PRWEB) February 18, 2015
3D Training Institute host a live webinar on Wednesday, February 25th, at 11am PST/ 2pm EST, featuring recruiter Cyrus Liu, who will describe the many career opportunities for artists and what he looks for when hiring 3D talent for Piranha Games studio.
Piranha Games is one of the industry's oldest independent developers in the Free-to-Play game marketplace. Founded in 2000, Piranha Games has extensive multi-platform and multiplayer experiences, making FPS action games for big-name franchises with AAA licensed titles such as Need for Speed: Undercover and Duke Nukem Forever, and MechWarrior Online.
Webinar participants will learn what studio recruiters in the fast growing gaming industry look for when hiring, and gain valuable insider tips on how to apply for these positions. Cyrus will also talk about the current opportunities for 3D artists at Piranha Games.
Participants will learn how to access to free Autodesk 3D software and beginners will get to participate in a promotional contest sponsored by 3DTraining.com. All participant registrants will receive a free 30 day mini-subscription to Stash Magazine, the planet's largest online library of animation, VFX and motion design.
This live webinar will give anyone who has ever dreamed about developing a video game or working for a video game studio the rare opportunity to speak directly to the person who makes the hiring decisions and find out how he chooses talent for his company.
The demand for skilled 3D talent is huge. According to a recent story in Venture Beat, more than 1.2 billion people are playing video games worldwide and of those about 700 million people play online games. Gartner Research estimates that the worldwide video game market generated $93 billion in revenue last year!
About the hiring process for the video game industry, Cyrus says "The candidates who get selected for an interview must have production skills and know how to get the job done. When I am evaluating a candidate, I look for someone who is genuinely interested in doing the work and is enthusiastic about being part of Piranha Games."
In a recent article in CNN/Money, Video Game Designer was number 2 on the list of Best 100 Jobs in America. According to this report, Video Game Designers enjoy high levels of personal satisfaction and low stress. With a median pay of about $80,000 a year and a projected 10 year growth rate of 19%, Video Game Designers are enjoying a great lifestyle and a very healthy demand for their services.
Gary Platt, 3D Training Institute Advisory Board Member said, "You don't need to be a mathematician to see the huge demand for 3D artists to work in the video gaming industry. Whether it's creating the next Angry Birds or Flappy Birds Game, artists have more opportunities than ever."
For more information and to register for one of the limited spots available, click here.
About 3D Training Institute
3D Training Institute (3DTi) is the leading provider of short-term production-based training programs in Autodesk Software. Popular trade magazines have recognized 3DTi as "One of the top schools, where students can put their careers on the fast track."
3DTi was one of the first companies to offer simulated on-the-job training in a live online production environment. 3DTi is an authorized Autodesk Training Center (ATC) and is licensed by the New York State Education Department (BPSS). For more information, visit http://www.3DTraining.com.