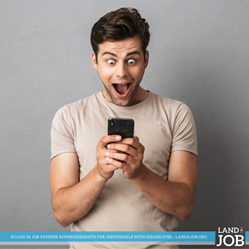 "I'm pleased by the new look and feel of the website. Individuals with disabilities will easily be able to register for services. Once a person has registered and has full access to all the information, I know they will find it informative and user friendly." John Bertram, Director of Operations
BOSTON (PRWEB) February 07, 2019
LandAjob, a Boston based non-profit that offers nationwide job services to Americans with disabilities, today announced the launch of their newly designed website, including a new logo leveraging warm typography. The new website has a welcoming feel and offers quick, easy access to essential information about LandAjob, including a comprehensive understanding of what services are offered and who qualifies. Chief Operating Officer Alan Hubbard said he is pleased the new website "makes it extremely easy to find, understand, and access services."
Designed with the end user in mind, the new site has a clean, uncluttered look. Numbered, easy to follow steps explain how the program works. Also included is how to verify LandAjob is an approved Social Security Administration Employment Network under the Ticket to Work program intended to help Americans with disabilities return to work. Americans with disabilities can go to LandAjob to find information about all aspects of the employment journey from resume writing to how to succeed on the job. Access to free online courses and training is available to those who register.
One of the tools on the new site is a searchable database of over 600,000 current jobs across the nation. The database is easily searchable by job description, region, and requirements and it includes easy, on-line applications. Compared to the legacy site, the new website includes 400% more links to jobs and resources. The increase is a result of LandAjob's continued mission to make the job search for Americans and Veterans with disabilities as easy and accessible as possible. Links include information about networking, social media, interviewing skills, free training, and employers hiring Americans with disabilities.
Improved functionality of the website enables interested parties in the disability community to quickly and easily identify information essential to understanding LandAjob's services, including how to receive up to $12,000 of reimbursements for job-related expenditures. The clean and organized pages make navigation easy and focus a user's attention on LandAjob's underlying mission to advocate for and provide access to jobs for Americans with disabilities in business verticals across the spectrum.
Visitors to the site will be able to have an informative experience that John Bertram, Director of Operations, hopes will lead to more individuals with disabilities benefiting from the jobs database, free training, and reimbursement services LandAjob offers. "I'm pleased by the new look and feel of the website. Individuals with disabilities will easily be able to register for services. Once a person has registered and has full access to all the information, I know they will find it informative and user friendly." Visit the new website at LandAjob.org
LandAjob.org (http://www.landajob.org), a subsidiary of NTI, is a 501 (c)(3) non-profit organization headquartered in Boston, MA. LandAjob has been providing job services to persons with disabilities on SSI/SSDI, a database of over 600,000 on-site jobs and job-expense reimbursements of up to $12,000.
NTI is a 501 (c)(3) (http://www.nticentral.org) non-profit organization headquartered in Boston, MA. NTI has been providing job services to Americans with disabilities since 1995. NTI pioneered staffing virtual call centers with Americans with Disabilities, including Disabled Veterans, who work from home.