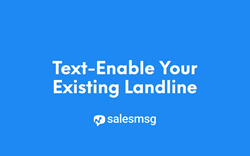 "It won't be long before everyone expects every number to be text enabled, including your landline. So if you've had the same phone number for years, your customers know it and want to text it. Now they can." - Chris Brisson, CEO
DELRAY BEACH, Fla. (PRWEB) March 01, 2021
Salesmsg today announced the release of landline texting! The popular two-way business texting platform for sales, marketing, and support professionals has simplified the process of text enabling landlines.
Landline users can now text-enable office numbers to receive text messages and respond from the easy-to-use Salesmsg web app, iOS, Android, and Chrome Browser Extension, without switching numbers or phone carriers.
"It won't be long before everyone expects every number to be text enabled, including your landline" said Chris Brisson, Founder and CEO of Salesmsg. "If you've had the same phone number for years, your customers know it and want to text it. Now they can."
The technology for landline texting has been around for years, but now Salesmsg has created a simple self-serve process that takes just a few minutes to make an existing landline phone number, textable.
How the Salesmsg Landline Texting Enable Process Works
(1) Enter an eligible landline number to verify ownership
(2) Authorize Salesmsg to send & receive SMS and MMS
(2) Assign the landline as a shared inbox or personal number
"Once a landline is enabled, most businesses start receiving incoming texts almost immediately" said Chris Brisson. "They're usually shocked when they see that their customers have been trying to text them for years. Their eyes light up with the new opportunities for customer engagement and growth."
Landline owners can now read and respond to all incoming landline SMS & MMS messages with Salesmsg for an "All In One" business texting experience.
About Salesmsg
Founded on the belief that "conversations are good for business" Salesmsg recognized the response rate of email, phone calls, and voicemail decline, while text messaging increased. It became clear based on how leads and customers wanted to communicate, sales, marketing, and support professionals needed SMS as the better way to connect.
Since 2017 Salesmsg has supported these professionals through the development of new CRM integrations and new features that improve lead conversion and sales, decrease appointment no-shows, and the eliminate technical complexity and management of managing multiple platforms.