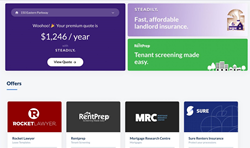 We're incredibly excited to be able to announce the launch of Landlord Studio Offers – Charles Chan, CEO of Landlord Studio
LOS ANGELES (PRWEB) November 29, 2021
Landlord Studio, a leading property management and accounting software, have announced their newest feature release, a one-of-a-kind landlord marketplace called Landlord Studio Offers. This new release adds to their already substantial suite of tools which already includes rental listings, tenant screening, online rent collection, financial tracking and reporting, and more, all of which aim to further their mission of saving landlords time and money.
Landlord Studio Offers aims to change the dynamic between big suppliers and smaller real estate investors. By leveraging the power and size of their growing community they are securing their users the very best deals within the industry. Currently, users can access offers for everything from legal documents and tenant screening to landlord insurance and even mortgages.
"We're incredibly excited to be able to announce the launch of Landlord Studio Offers. We are in the privileged position to be able to help our community of landlords. We have partnered with some incredible companies already and are now looking to expand the range of deals we can share in Landlord Studio Offers," said Charles, CEO of Landlord Studio. "The ultimate goal of this new release is to give back to our users, to continue to make their lives easier, and of course to save them money so that they can continue to grow and achieve their financial goals."
As part of their initial release Landlord Studio has partnered with Steadily, America's best-rated landlord insurance company. Steadily offers an easy, fast, and affordable online insurance product for rental property owners. By making the whole process digital they are able to offer the most competitive rates available in the market. The two companies have developed a unique API together to get landlords instant quotes in-app. This integration uses the basic data already supplied in Landlord Studio to automatically calculate how much money they could save today.
"Landlord Studio is empowering landlords with a digital-first platform that is uniquely built for their needs, and works like the other modern tools that they love," said Darren Nix, Founder and President of Steadily. "Steadily was founded on this same idea and is built by landlords, for landlords. The partnership is a natural alignment between our two brands and offers additional value-add to landlords at each step in their customer journey. We are delighted to be partnering with Landlord Studio in this new Offers program."
Landlord Studio is already engaged in talks with several big suppliers and plans to continue to grow Landlord Studio Offers. The next step for the Landlord Studio team is to expand this offering through user feedback. Their objective is to be a complete one-stop shop for landlords where they can manage every step of their property portfolio and easily obtain the best industry deals for essential services and resources.
About Landlord Studio
Landlord Studio is a cloud-based property management software built by landlords for landlords. Available on desktop, iOS, and Android, it gives landlords the rental accounting and property management tools they need in order to save time and money. Keep track of income and expenses, generate professional reports for your accountant, automate reminders and invoices, and more.
About Steadily
Steadily was created by industry experts to offer the best landlord insurance service and a top-rated customer experience from quote request to claim resolution. Mobile-first and direct-to-consumer, Steadily is poised to rapidly remake the insurance segment. The company is dual headquartered in Austin, Texas and Overland Park, KS., and is backed by investors including Matrix Partners, Zigg Capital, Next Coast Ventures, Nine Four Ventures, and SV Angel. Learn more at https://www.steadily.com and stay in touch @SteadilyInsure and Facebook.com/SteadilyInsurance. For press inquiries or more information, please contact press@steadily.com | 737-900-3554