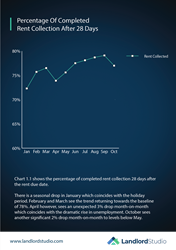 Our data shows a 2% decrease in payments made on or before the rent due date in both August and September, followed by an additional 5% decrease in rent payments in October by the rent due date. However, this disparity of rent collection flattened out after 28 days, with 79% of tenants having paid.
PORTLAND, Ore. (PRWEB) November 09, 2020
Landlord Studio, the industry-leading property management software, has published their new Residential Rental Index Report. The aggregated anonymous data collected over the past ten months has been used to analyze rent collection trends nationwide.
"The intent behind collecting and sharing aggregated data from active rental properties across the US is to offer fresh and beneficial insights into current and future rental market trends. This is especially important with current market uncertainties," said Charles Chan, CEO, and Founder of Landlord Studio.
The October Residential Rental Index report contains the latest wave of data that shows the clear impact of COVID-19 and increases in unemployment, as well as the impact of various mitigating factors like the CARES Act.
"The data shows a significant increase in late rent payments for the months of April and October. The latter concerningly suggests that the trend in late rent payments could worsen before it gets better. We will continue to track and monitor this data to help landlords and renters make informed decisions," Charles said.
The report showed that while rent is still being collected, in many cases it's taking longer for landlords to complete the rent collection process.
Three key trends the report revealed were:
Firstly, there was a 3% month-on-month drop in rent received after 28 days in April with only 74% of landlords having completed rent collection - well below the 78% baseline recorded from last year. Additionally, there was a 2% month-on-month drop in rent collected after 28 days in October. However, it's interesting to note that for the months of June to September the total percentage of rent collected after 28 days continued to rise to above the baseline average.
In comparison to the stable total rent collected after 28 days, there was a steady decrease in rent collected on or before the rent due date. Rent collected on time dropped 7% from 32% to 25% between May and October.
In April, May, and October it took significantly longer than average for 70% of landlords to complete their rent collection. In the month of April it took 19 days, May 16 days, and October 15 days, compared to March, June, and July in which it took only 12 days for 70% of tenants to complete their rent payments.
To create the report Landlord Studio pulled aggregated data from 10,000+ active leases from across the US from January to November 2020. These leases relate to a variety of rentals covering various rental class groups, including classes A, B, and C, as well as student accommodation. This gives a good indication of overall trends across all sub-segments of the market.
Our full report can be viewed here: https://www.landlordstudio.com/rentalindex/
About Landlord Studio
Landlord Studio offers industry-leading property management and financial tracking solutions for real estate professionals. They were rated as the most usable property management software by Gartner in 2020 and are improving the lives of landlords and tenants by arming them with the knowledge and tools required to make renting easy. Thousands of landlords from over 70 different countries already use Landlord Studio to save time and money by simplifying and automating the rental process. http://www.landlordstudio.com
SOURCE Landlord Studio