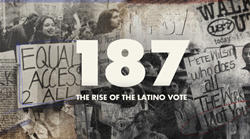 BURBANK, Calif. (PRWEB) September 11, 2020
KCET, a producer of award-winning and diverse original content for public media, announced today the premiere of a new documentary called 187: THE RISE OF THE LATINO VOTE. The 90-min. film, directed by Dignicraft film and art collective, chronicles Proposition 187, a California ballot measure passed in 1994 that sought to deny public services to undocumented immigrants. While the initiative was meant to keep the "immigrant threat" at bay, it mobilized non-immigrants and immigrants in Latino communities as well as their allies across the state. The political awakening of this powerful group would dramatically change the state's electoral politics, transforming the state into a Blue and progressive state for the first time. Proposition 187 created new and enduring political faultlines across California and across the nation as well as molded the political careers of a new generation of leaders. 187: THE RISE OF THE LATINO VOTE premieres in Southern California on Tues., Oct. 6 at 8 p.m. PT on KCET and encores on Thurs., Oct. 8 at 8 p.m. on PBS SoCal, as well as Sun., Oct. 11 at 6:30 p.m. ET/PT on Link TV nationwide (Dish Network 9410 and DirecTV 375).
This pivotal moment in California history unfolds through more than 20 interviews with major political figures, artists and thinkers from across the state including California State Senator Maria Elena Durazo, former California State Senator and current LA City Councilmember Gil Cedillo, former California State senate President pro tempore Kevin de León, Mexican American Legal Defense & Education Fund (MALDEF) president Thomas Saenz, California State Assembly speaker emeritus Fabian Núñez, the first Latina in history to be elected to the California State Legislature Gloria Molina, former California State Senate Majority leader and member of the California State Assembly Richard Polanco and more.
This important documentary stemmed from Somos California ("We Are California"), a group of Latino leaders in Southern California originally formed to coordinate activities commemorating 25 years since the passage of Proposition 187. The overarching goal of this committee and project is two-fold: 1) generating awareness around the 25th Anniversary of Prop 187 - its passage, repeal, and impact - and 2) utilizing lessons learned 25 years ago to drive action today. Somos California has since continued its work by focusing on emerging issues affecting California's Latino communities.
A complete lineup of extended interviews will be made available at kcet.org/187 with subjects providing oral histories, which help build a more holistic view of the prime movers, major events and other factors that influenced this pivotal moment in history.
The new documentary 187: THE RISE OF THE LATINO VOTE is part of a programming lineup focused on this election cycle, where PBS SoCal and KCET explore the past, present and future of democracy. KCET and PBS SoCal are committed to bringing viewers a broad array of initiatives as part of a "VOTE 2020" campaign. With both national and locally-produced programming, online content (including the always popular "Props in a Minute") and virtual local events focused on this election cycle. Programming includes NewsHour's unbiased coverage of the conventions and the debates, FRONTLINE's investigative reports on the candidates and Washington Week's analysis, as well as all-new KCET Original documentaries that spotlight California's changing population, values and social movements. Local election coverage both on-air and online deciphers the issues that viewers will find on the ballot and how they will impact the city and state. Finally, a partnership has been formed this year with the nonpartisan organization I Am A Voter to highlight the civic responsibility of voting. For more election-related content and news articles go to kcet.org/vote2020 and pbssocal.org/vote2020
This program was made possible in part by We Are CA, Somos CA Committee with funding provided by LA Plaza de Cultura y Artes Eastside Arts Initiative, California Community Foundation, Weingart Foundation and the Eli and Edythe Broad Foundation.
Join the conversation on social media using #Prop187
ABOUT KCET
KCET is on-air, online and in the community, and plays a vital role in the cultural and educational enrichment of Southern and Central California. KCET offers a wide range of award-winning local programming as well as the finest public television programs from around the world. Throughout its 54-year history, KCET has won hundreds of major awards for its local and regional news and public affairs programming, its national drama and documentary productions, its quality educational family and children's programs, its outreach and community services and its website, kcet.org. For additional information about KCET productions, web-exclusive content, programming schedules and community events, please visit kcet.org. Select original programming from KCET is also available for streaming on Apple TV, YouTube, Amazon and Roku platforms. For more information please visit kcet.org/apps.