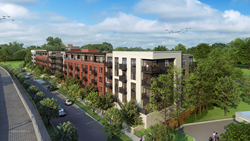 Our goal has long been to build the best place to live on the Purple Line, and I'm proud that we are now on our way to doing just that.
BETHESDA, Md. (PRWEB) December 03, 2018
Property development and management company Landmark Realty Inc. is pleased to announce that its residential development project Crescent at Chevy Chase was unanimously approved by the Montgomery County (MD) Planning Board on Thursday, November 29. Adjacent to the upcoming Purple Line light-rail, the transit-oriented development will feature underground parking, up to 111 rental apartments, and include up to 129,472 square foot of development.
Located on Newdale Road near Connecticut Avenue, Crescent at Chevy Chase will replace the existing 65-year-old Newdale Mews garden apartment community, which will remain open for current residents through 2019. The development plan also includes connections to a shared-use path for bikers and pedestrians to the Capital Crescent Trail and Connecticut Avenue, planting trees along Newdale Road, and conducting a significant off-site environmental mitigation project at a nearby senior living facility.
"Receiving unanimous approval from the Planning Board is a major win for Crescent at Chevy Chase," said Landmark Realty President Rob Bindeman, who presented the project to the Planning Board on Thursday. "We have put a lot of work and effort to make it a well-thought-out, multi-family transit-oriented development that reinvents a charming streetscape, and at the same time, organically fits into the existing community." He underscored: "Our goal has long been to build the best place to live on the Purple Line, and I'm proud that we are now on our way to doing just that."
Architect Jon Eisen of The Eisen Group added: "The Crescent was a challenge right out of the gate. Our task was to create a residential development in a heavily constrained site that would not only meet the market demand, but also fulfill the transit-oriented nature this location has to offer. The end result was a true collaboration between Landmark, the community, Park and Planning staff, and the design team. The buildings will be a nice addition to the Chevy Chase submarket and one of the first-in-class residential offerings on the Purple Line."
Other members of the Crescent at Chevy Chase development team include land use attorney Stacy Silber of Lerch Early, and James Buchheister of civil engineering firm VIKA.
About Landmark Realty Inc.
Landmark Realty is a property management and development company headquartered in Bethesda, Maryland. Built on a proud history of construction, property renovations, and property management that span four generations of the Bindeman Family, Landmark is proud to have served apartment renters for over 50 years.
To learn more about Landmark Realty and its currently offered rental apartments, visit: https://bindeman.com.