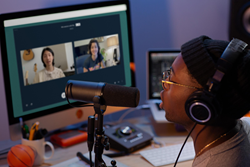 "We really wanted to create the fastest and easiest way for musicians to collaborate with each other." - Pascal Pilon, CEO & Founder of LANDR
MONTREAL, QC (PRWEB) February 09, 2021
LANDR announces the launch of Sessions, the first video chat built specifically for musicians. With Sessions, artists and producers can stream high-quality audio directly from their digital audio workstation (DAW) to collaborators around the world. Sessions adds remote collaboration to the LANDR creative platform, which already provides musicians with the tools they need to create, master and release music.
"We really wanted to create the fastest and easiest way for musicians to collaborate with each other. The existing workflows are so clunky and require so many compromises. We knew there had to be a better way," says Pascal Pilon, CEO & Founder of LANDR. "In today's world, video chat is a tool that has become commonplace, but none of the existing tools were built with musicians in mind. So, it was just a matter of understanding the problem from the musician's point of view."
Sessions offers a seamless way to collaborate and recreate the feel and workflow of being in a studio. Artists and musicians looking to collaborate remotely no longer have to rely on complicated workarounds that compromise audio quality or send large files back and forth through third parties. Setup only takes about 2 minutes and allows users to stream high-quality audio while video chatting in real time.
Sessions is the go-to solution for musician looking to:

Get real-time feedback from collaborators
Listen on-the-go using the Sessions app
Produce and write songs remotely
Offer online music lessons
Stay connected
LANDR users can use Sessions to stream 15 minutes of DAW audio to a limited number of collaborators for free. Sessions Premium includes unlimited audio streaming with up to 16 collaborators for $49.99 per year.
LANDR established itself in the industry with its pioneering AI Mastering service, but the company has since expanded its products to include a samples marketplace, distribution, creative tools, rent-to-own plugins, collaboration tools and a service marketplace. With the addition of Sessions, LANDR endeavors to provide a complete ecosystem for music creators.