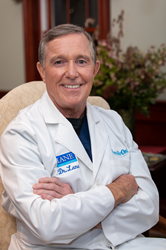 You'll be smiling on for the rest of your life!
Sandwich, MA (PRWEB) December 17, 2020
Experienced father-son oral surgery team, Dr. William F. Lane and Dr. William M. Lane, raise awareness of their exclusive full arch dental implant solution, SmileOn!™, as a permanent alternative to loose dentures in Sandwich, MA. The surgeons use their own patented treatment protocol to offer life-changing full mouth dental implants in one day at their two practice locations in Sandwich and Plymouth, MA.
Many patients missing all their teeth choose removable dentures as their tooth replacement option. Dentures are fitted to rest snuggly over the jaw ridge and gumline. Over time, this bony ridge will resorb and shrink without the stimulation of natural teeth. At this point, many patients experience painful, loose dentures and increased difficulty eating and speaking comfortably and confidently. The SmileOn! dental implant solutions offered exclusively at Lane Oral Surgery eliminates these issues and many more with a permanent and secure alternative.
SmileOn! full mouth dental implants replace all your missing teeth with a complete dental bridge supported by 6-8 dental implants surgically secured into the jawbone. With a treatment protocol designed by Dr. William F. Lane specifically for full arch dental implant patients, the experienced surgical team uses advanced technology and innovative techniques that provide transformative and lasting results. Dental implants are strategically placed in areas of the jaw where the bone is most dense to eliminate the need for bone grafting in most cases. The set of custom, natural-looking replacement teeth can either be permanently fixed to the dental implants or snapped in place. These teeth have a life-like appearance with the strength to restore nearly 100 percent of normal biting and chewing function. Patients can begin experiencing the benefits of this solution immediately with a temporary restoration received the day of their dental implant surgery.
The long-term benefits of SmileOn! full mouth dental implants include replacing loose dentures with a fixed set of attractive, sturdy teeth that allow you to smile, talk, and eat comfortably. Because these teeth are permanently secured to the dental implants, they no longer rely on pastes or natural suction to remain in place. You'll be able to easily bite and chew a variety of foods. SmileOn! dental implant solutions also resist staining and do not decay, and do not need special maintenance outside of normal brushing and flossing. Custom-made to fit comfortably inside your mouth, they provide a beautiful and natural smile that looks and feels real. Unlike removable dentures, SmileOn!™ dental implant solutions are designed to last a lifetime, with minimal maintenance and rarely, if ever, needing repairs. As Dr. William F. Lane says, "You'll be smiling on for the rest of your life!"
The oral surgeons at Lane Oral Surgery have decades of combined experience in dental implant treatment and place hundreds of dental implants each year using innovative technology. With oral and maxillofacial training at the renowned Boston University and Tufts University, the father-son team offers a superior level of surgical care and personalized patient experiences. The oral surgeons are pleased to provide their SmileOn! dental implant solutions exclusively at their practices and offer patients an efficient and comfortable transition from painful, ill-fitting, or loose dentures into a beautiful, stable new smile with dental implants.
Patients with loose dentures in Sandwich, MA interested in SmileOn! full mouth dental implants can contact Lane Oral Surgery for a consultation. Appointments at their Sandwich or Plymouth, MA locations can be made by visiting http://www.laneoralsurgery.com or calling 508-746-8700.
About the Practice
Lane Oral Surgery offers oral and maxillofacial surgical care at their offices in Plymouth, MA and Sandwich, MA. Renowned oral surgeon, Dr. William F. Lane graduated from Harvard University, received his doctorate from Boston University, and completed his residency training in oral and maxillofacial surgery in a combined program at Boston University and Tufts University. Dr. Lane created the revolutionary SmileOn!™ same-day full mouth dental implant solution to help patients with missing teeth regain their smile, confidence, and normal dental function. His son and esteemed associate, Dr. William M. Lane completed his medical degree from Boston University School of Medicine before graduating Summa Cum Laude from Tufts University School of Dental Medicine with his Doctor of Dental Medicine degree. He then completed his oral and maxillofacial surgery residency program at Boston University/Boston Medical Center. Together they offer a comprehensive list of high-quality oral surgical care including bone grafting, wisdom teeth removal, full mouth reconstruction, and cosmetic surgical treatments. The entire team at Lane Oral Surgery is devoted to restoring and enhancing the natural beauty of smiles. To learn more about these oral surgeons or the services offered at Lane Oral Surgery, visit http://www.laneoralsurgery.com or call to schedule a consultation.