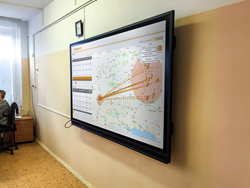 The operating platform Lanehub has created has proven to be an exceptional way to stimulate dialogue, and drive business results among shippers and carrier partners for the transportation industry
GREEN BAY, Wis. (PRWEB) November 07, 2018
Lanehub, a collaborative transportation network that enables shippers or carriers to match recurring freight lanes on a consistent basis, today announced more than 75% growth in the number of lane matches on its platform in the third quarter of 2018 while it also continues to onboard new companies.
"Our membership is seeing an increasing number of Fortune 500 companies, including well-known food and beverage, consumer goods and manufacturing operations, using our collaborative approach to increasing capacity utilization and reducing costs," said Mark Hackl, CEO and founder of Lanehub. "In the third quarter of this year, shippers increased the number of lanes in our network to 91,000, representing over 19 million annual shipments, and we realized a 77% increase to 9.8 million lane matches. New and existing private and dedicated fleets continue to expand their use of the Lanehub network to address the shortage of truck capacity by utilizing trucks that still run empty or with inconsistent freight."
Lanehub's collaborative transportation network allows shipper and carrier members to work together and collaborate on the best ways to implement matches. Backhaul Assist, the newest capability offered by Lanehub, allows shippers that have private fleets or utilize dedicated contract carriers to market their available or anticipated capacity to other shippers.
Among the two dozen Lanehub member fleets taking advantage of the Company's recently announced Backhaul Assist, is Shaw Industries Group Inc., the Lanehub member is a global flooring provider and a wholly owned subsidiary of Berkshire Hathaway, Inc. headquartered in Dalton, Georgia.
"The operating platform Lanehub has created has proven to be an exceptional way to stimulate dialogue, and drive business results among shippers and carrier partners for the transportation industry," said Mick Miller, transportation sales manager at Shaw Industries Group. "The team they've assembled has demonstrated a willingness to assist our operation, and the expertise to be able to do so by aligning partners throughout the industry in a new and creative way."
Rockline Industries is also using the Lanehub network to discover collaborative opportunities. "The power of collaboration with Lanehub clients enables us to manage challenging lanes and mitigate increasing market prices," said Matt O'Connor, vice president of supply chain. Rockline Industries, a family-owned company headquartered in Sheboygan, Wisconsin, is one of the world's largest manufacturers of coffee filters and consumer, health care, industrial and institutional wet wipes.
About Lanehub
Lanehub is a cloud-based collaborative transportation network that enables shippers or carriers to match recurring freight lanes on a consistent basis to jointly source capacity or better utilize private or dedicated fleets. Dedicated to creating reliable partnerships, the low cost, simple software solution is generating significant savings for the hundreds of shippers and carriers that have already joined the Lanehub community and that currently represent 19 million annual shipments from companies such as Anheuser-Busch, Pactiv, IFCO, Shaw Industries Group, Rockline Industries and Smithfield Foods. Founded in 2016, Lanehub is based in Green Bay, Wisconsin. To learn more about how Lanehub helps companies Ship Better, Together, visit http://www.lanehub.com.
Media Contact:
Susan Fall
LaunchIt Public Relations
858-490-1050
susan(at)launchitpr.com