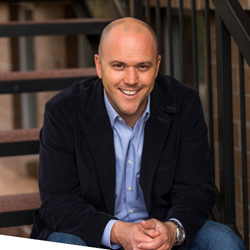 "I'm grateful for the opportunity to help lead an agency like LaneTerralever, working alongside an ownership team that truly embodies class and transparency." - Andy Parnell, LaneTerralever President
PHOENIX (PRWEB) November 18, 2020
AdAge-honored, full-service marketing agency, LaneTerralever, expands its executive team with the advancement of former Chief Client Officer and agency veteran, Andy Parnell, to President. Moving forward, Parnell will help guide the company mission along with partners CEO Chris Johnson and Executive Chairman Beau Lane.
"I'm grateful for the opportunity to help lead an agency like LaneTerralever, working alongside an ownership team that truly embodies class and transparency. In my early days working in agencies, I looked up to Terralever and EB Lane as the standard, and after a decade being here, I still feel the same," shared newly appointed LaneTerralever President Andy Parnell.
A Northern Arizona University graduate and longtime community member, Parnell brings more than 25 years in business development, marketing and account management experience, with almost half that time managing and growing key LaneTerralever accounts including Red Bull, Honeywell and TruGreen. He also championed an increased focus on client satisfaction, increasing the agency's Net Promoter Score from a negative 3 to a world-class high of 82, putting them in the top 1% of professional service firms.
Utilizing the Entrepreneurial Operating System (EOS), as President, Parnell will focus on the success of day-to-day operations, while as CEO, Johnson will focus on innovation and future growth – helping LaneTerralever achieve more revenue and growth while delivering a better balance to its business owners and leaders.
Also leading the management of the agency and reporting to the President are Chief Creative Officer, Ian Barry; Chief Operating Officer, Dave Foster; newly added Executive VP of Business Development, Brad Gould; newly appointed Executive VP of Account Services, Alison Schmitt; and Senior VP of Media, Fraser Elliott.
"Andy's passion for clients, his love for LaneTerralever's culture and his deep experience in modern marketing make him an ideal leader as we move forward into this rapidly evolving world. I'm excited to see what Andy's leadership brings in the years to come," shared LaneTerralever CEO Chris Johnson.
For more information, go to LaneTerralever.com.
About LaneTerralever
Recognized as one of the region's largest full-service marketing agencies, Phoenix-based LaneTerralever derives success from understanding their customers' unique journey, building brand experiences that drive action, and developing marketing strategies for transformative growth – all while maintaining a client satisfaction Net Promoter Score of 82, compared to an industry average of 15.
LaneTerralever provides brand strategy, strategic planning, design, website development, user experience, content strategy, media strategy and buying, public relations, video production, acquisition and lead generation, social media and direct response advertising services for clients such as Desert Diamond, Universal Technical Institute, The Joint Chiropractic, K12, TruGreen, Valley Toyota Dealers, Shamrock Foods, Wisdom Brands, Landmark Recovery, First Solar, Phoenix Children's Hospital and The Phoenix Zoo.