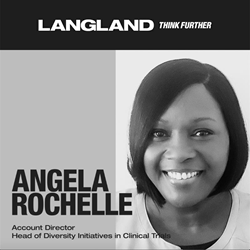 Langland is known for developing creative and strategic approaches that insist inclusivity is addressed at every stage of the process, and I'm so glad to continue advancing this important work.
NEW YORK (PRWEB) October 30, 2020
Langland is proud to announce the appointment of Angela Rochelle as Account Director, Head of Diversity Initiatives in Clinical Trials. In this role, Angela is the agency's leading advocate for diversifying patient representation in Clinical Trial Experience (CTE). In addition, Angela collaborates with Langland's established clinical trial inclusivity taskforce—a team committed to designing and deploying clinical trial communications that proactively address common barriers experienced by underrepresented communities, and advising on best practices throughout the agency's US, UK, and Australia offices. Angela's appointment comes as the agency reaffirms its commitment to equity and fair representation in clinical trials, and in the broader healthcare communications industry.
"It's exciting to join Langland and their long tradition of excellence in healthcare communications," Angela said. "Langland is known for developing creative and strategic approaches that insist inclusivity is addressed at every stage of the process, and I'm so glad to continue advancing this important work."
Prior to joining Langland, Angela spent time at some of the country's leading multicultural advertising agencies working with high-profile clients such as Unilever, General Motors, Walmart, and Proctor & Gamble. Her more than 2 decades of industry experience has also involved successful roles in healthcare advertising account management, including recent clinical research and patient advocacy work with Bristol Myers Squibb and Merck. Angela now brings her considerable expertise to Langland's established legacy of excellence in clinical trial recruitment and experience.
"Angela has been developing initiatives to engage with multicultural audiences since before it was top of mind for many companies," said Klaira Simon, Managing Director of CTE at Langland US. "We're proud to have seized this pivotal moment to solidify our commitment to conducting equal and representative clinical trials—in our ranks, in our business practices, and in how we serve our clients."
Recognizing that equitable representation should be a goal across the industry, Langland has also increased its focus on practices that build a more diverse and inclusive workplace. Across all of its locations, these practices include anonymized resumé submissions, mandatory unconscious bias training, career programs, and school relationships for people from mixed socio-economic backgrounds, as well as internal support communities for women, LGBTQ+ (Lesbian, Gay, Bisexual, Transgender, Queer/Questioning, and Related Communities) , and BIPOC (Black, Indigenous and People of Color) employees and their allies.
In Langland's US office, as more staff have been brought on to support expanding CTE business, 80% of new hires self-identify as BIPOC; overall, 40% of total US staff—including 40% of agency leadership at the account director level and above—self-identify as BIPOC.
Victoria Wright, Group Managing Director at Langland, added: "The appointment of Angela Rochelle is yet another example of thinking further. Driving a step-change in diversity and inclusion takes more than a statement or a black square on social media. We understand that and are taking action now to positively influence our tomorrows. We firmly believe that diverse perspectives lead to more imaginative, intelligent and inspirational solutions, and that is exactly what Langland, our industry and our clients really need."
About Langland
Langland is a health communications agency that helps people, brands and businesses think further. We believe in the power of different perspectives. It's why we have brought together four key health disciplines–Clinical Trial Experience; Medical Strategy & Education; PR & Policy; and Advertising. This close collaboration allows our clients to have the very best minds in health caring for the most important parts of their business. For more information, visit us at http://www.publicislangland.com.
About Publicis Health
At Publicis Health, we are united around one purpose: to create a world where people are equipped and motivated to take control of their health. We transform healthcare marketing and communications into healthcare engagement. We believe healthcare marketing is healthcare, fostering healthy conversations, healthy behaviors and healthy people. Publicis Health is a Dynamic Health Engagement Platform, an organizing principle that seamlessly connects data, content and technology; is driven by marketing and business transformation; and offers our clients fluid access to world-class talent and game-changing capabilities. With 40 offices and 11 brands across the globe, Publicis Health's worldwide staff is comprised of more than 3,000 healthcare professionals who are experts in advertising and branding, data and analytics, strategic planning, service design, digital media and technology, science, and medicine. Publicis Health companies include Digitas Health, Heartbeat, Insync, Langland, Payer Sciences, PlowShare Group, Publicis Health France, Publicis Health Media, Razorfish Health, Saatchi & Saatchi Wellness, and Verilogue. For more information, visit us at http://www.publicishealth.com