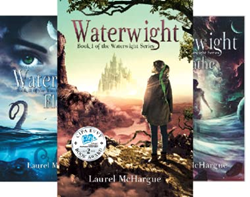 "When you're creating a haiku poem, counting on fingers is absolutely encouraged!"
SALIDA, Colo. (PRWEB) September 03, 2020
For public and homeschooling language arts educators, finding engaging materials for middle grade and beginning high school students can be a challenge. Author Laurel McHargue, a former middle and high school language arts teacher, has published material that just might help.
"I wrote my Waterwight series with these students in mind," said McHargue. She went on to explain the following lessons teachers and parents could develop based on the series:

Coming of age discussions
The Hero's Journey
Communication skills
Symbolism and themes
Figurative language elements
Human nature
Vocabulary development
Foreshadowing
The environment
Good versus Evil
Mystery and foreshadowing
"Each book comes with a synonym glossary for higher level vocabulary and questions for discussion," she added.
In addition to her novel series, McHargue created a semester's worth of daily warm-ups in a consumable workbook called HaiCLASSku, with 90 haiku poem "starters," appropriate for middle and high school students.
"Students typically groan when a teacher mentions the word poetry, but once they learn they only have to come up with 17 syllables--like putting together a word puzzle--they quickly get into the rhythm of this Japanese poetry form."
The 90-page workbook has the first line prompt on each page along with space to finish the poem, draw a sketch, and write about the inspiration for the completed poem. "This resource is perfect for writing warm-ups and for easy lessons for guest instructors."
"When you're creating a haiku poem, counting on fingers is absolutely encouraged!" said McHargue. "I was always impressed by my students' finished creations, and even better, my students were clearly proud of their accomplishments."
She added, "In this time of uncertainty and potential ongoing social distancing requirements, I hope these resources will help . . . and be enjoyable for educators as well as students."
###
Laurel McHargue lives and writes in Colorado's Rocky Mountains and hosts the podcast Alligator Preserves. She also raises ducks. Follow her on her website and find her on social media. Her books are available on Amazon and from Ingram in e-versions and paperback.