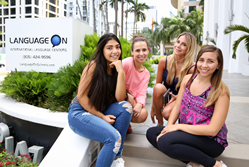 "At the moment we're working on opening our fourth school," Director Denis Marchant said. When asked where, he responded, "You'll just have to wait and see."
MIAMI BEACH, Fla. (PRWEB) April 22, 2019
Language On, which started out as a small English school on Lincoln Road in the heart of Miami Beach ten years ago in 2009, has now grown to include three campus locations in the state of Florida. In addition to its Miami Beach English School, Language on has an English school on Brickell Avenue in Miami as well as Orlando.
Language On is authorized under federal law to enroll nonimmigrant students and serves over 200 international students from dozens of different countries around the globe. Students enrolled in Language On's Intensive English Course can choose from morning and evening classes as they progress through the English school's six-level program. Upon completion, students can continue in the school's TOEFL Preparation Module before transferring to a university or returning home.
The Language On system of English schools is capping off its 10th-anniversary celebration with big plans for the future.
"At the moment we're working on opening our fourth school," Director Denis Marchant said. When asked where, he responded, "You'll just have to wait and see."